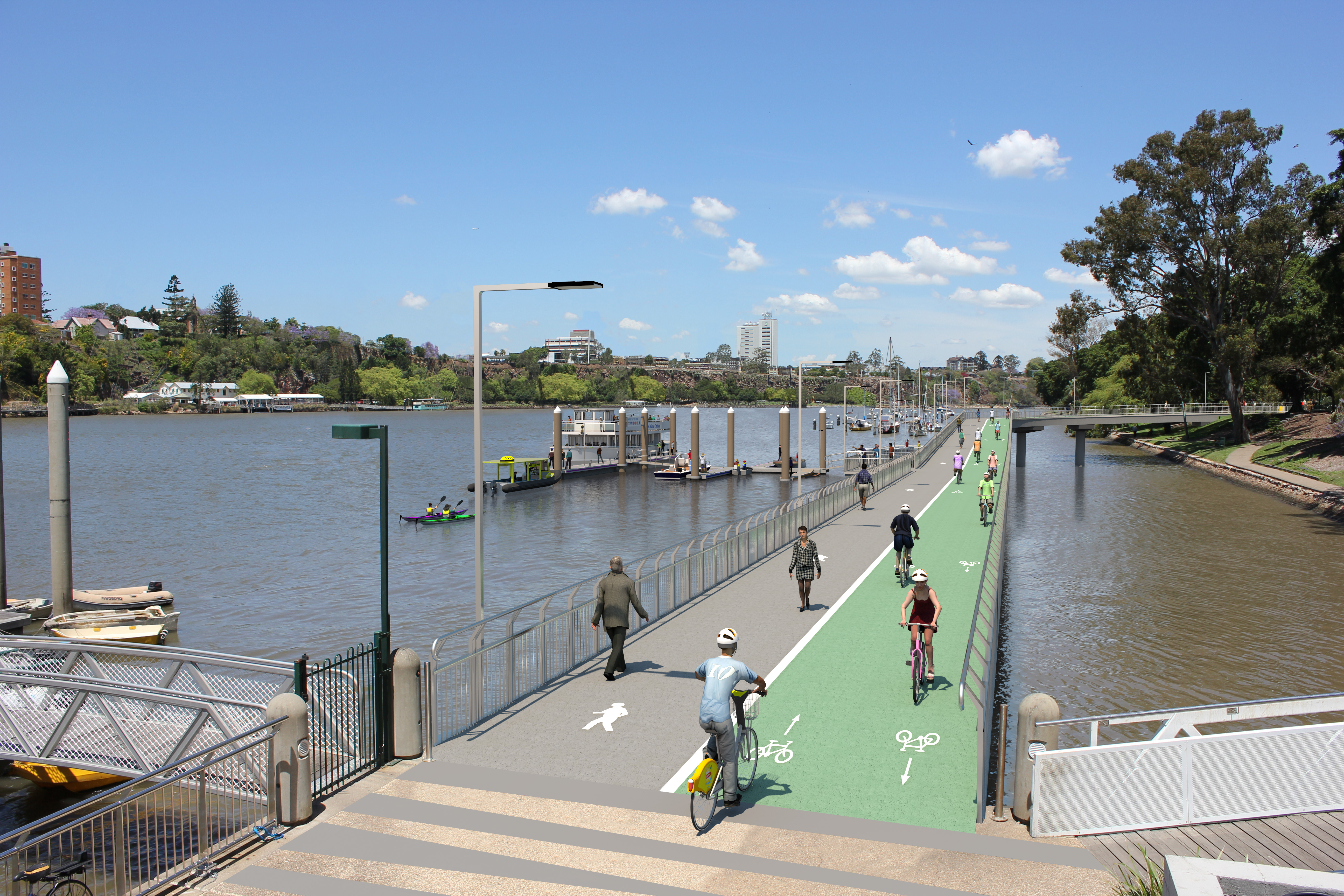 New riverwalk to transform garden's edge
Along with Deputy Mayor Adrian Schrinner I have unveiled plans for a new Riverwalk alongside the City Botanic Gardens, that will complete a missing link in a popular pedestrian and cyclist route between the CBD and South Bank.
Cr Schrinner said the new Riverwalk would allow thousands of residents and visitors to make the most of Brisbane's lifestyle opportunities along the river's edge.
"The construction of the Botanic Gardens Riverwalk will transform the journey for thousands of pedestrians and cyclists getting active in our river city," Cr Schrinner said.
"The Alice Street and Edward Street intersection remains a missing link in the journey between New Farm and South Bank, with a narrow, winding path the only connector between the CBD and the City Botanic Gardens.
Cr Vicki Howard said more than 3000 pedestrians and cyclists already use this route every day and many more will make the most of the leisure opportunities our river has to offer with the construction of this new riverwalk.
"The proposed Botanic Gardens Riverwalk will see a six-metre wide, separated and bi-directional cycling and pedestrian pathway extend the City Reach Boardwalk 176-metres to the Botanic Gardens' Bunya Walk," said Vicki.
"The project will also complement Team Quirk's plan to enhance tourism and lifestyle options along our river, with a new river access hub also proposed to extend of the new riverwalk."
An online survey was now open for residents to provide their feedback on the preliminary design of the Botanic Gardens Riverwalk.
"Brisbane is a great place to live, work and relax and we value the feedback of residents so we can continue to enhance Brisbane's lifestyle."
Residents can have their say, by filling out the online survey on Council's website.
Council will also be hosting information sessions along the Bunya Walk in the City Botanic Gardens this month:
20 February, 4-6pm
22 February, 6:30-9am
24 February, 9-11am
Construction of the Botanic Gardens Riverwalk and River Access Hub is expected to be complete by late 2019.
For more informaion and to have yrou say just visit – https://www.brisbane.qld.gov.au/traffic-transport/roads-infrastructure-bikeways/current-bikeway-pathway-projects/alice-streetedward-street-botanic-gardens-riverwalk-project-brisbane-city