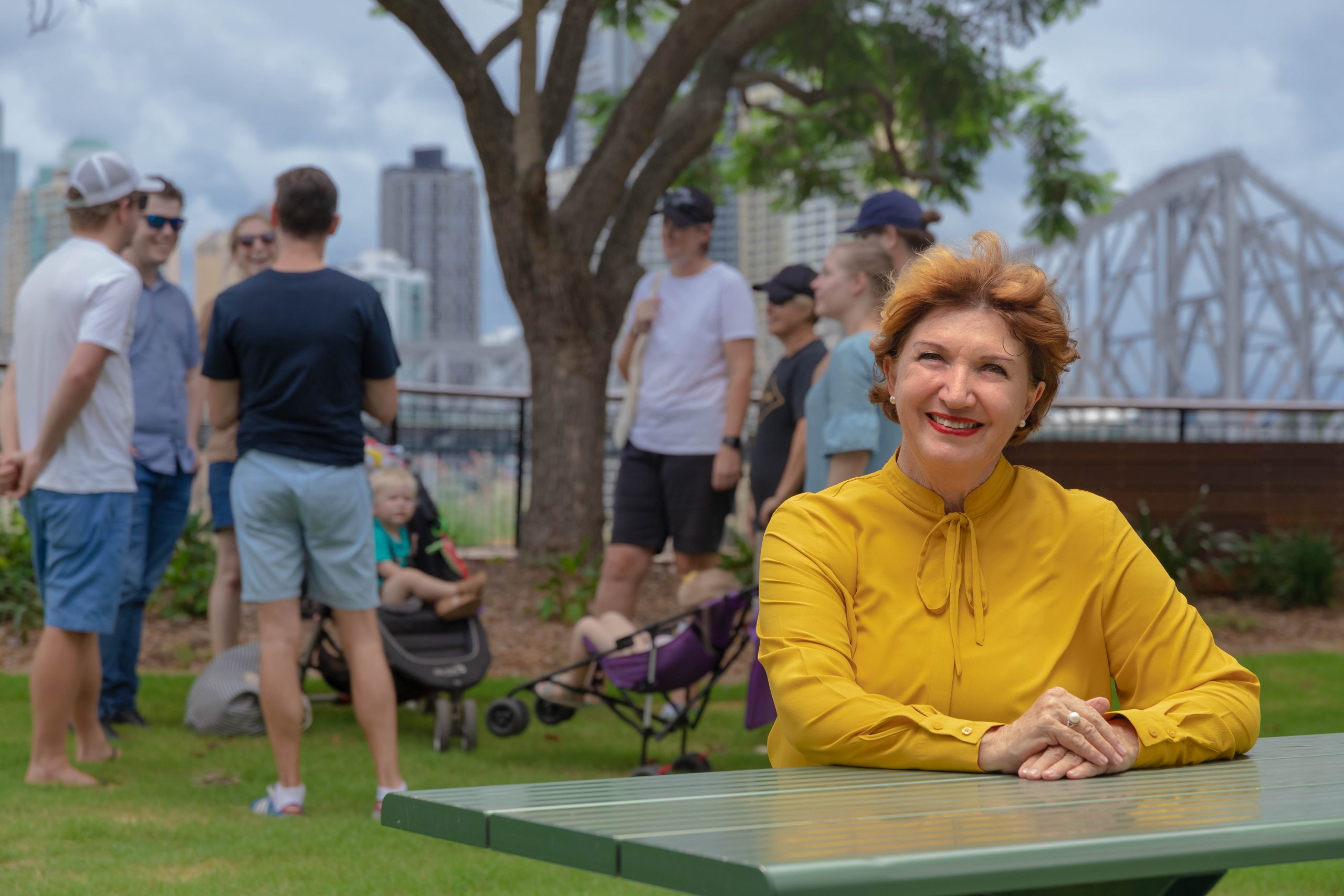 This year's Budget confirms our commitment to the people of Brisbane, demonstrating what can be achieved when we work together as a community.
A global pandemic and devastating flood have tested our resilience.
Now, we must continue to rebuild and recover, suburb by suburb, street by street, to ensure Brisbane bounces back stronger.
Fortunately, our commitment to strong financial management over the years means we're able to prioritise our rebuild and recovery, while keeping our Budget unashamedly focused on Brisbane's suburbs, with a new 'Suburbs First Guarantee' ensuring at least 80 per cent of all spending is directed to the suburbs.
Our network of 2,100 parks makes Brisbane a more liveable place and we'll continue to invest heavily in our city's green space. One new measure I believe is particularly important is making every playground in Brisbane sun safe, to protect our children from the harsh Queensland sun.
We are also continuing with longer-term programs to build a better, more resilient and more connected Brisbane, through projects like the fully electric, turn-up-and-go Brisbane Metro, and critical new links like the Kangaroo Point and Breakfast Creek Green Bridges. And we're continuing to invest in road upgrades that help keep our city moving, ensuring people get home sooner and safer.
We knew Brisbane businesses were suffering extraordinary hardships during the COVID-19 pandemic, which is why we provided millions of dollars in relief and are continuing our investment in the Brisbane app to keep our community and local businesses connected.
We have the experience to prioritise Brisbane's rebuild and recovery and we are determined to ensure Brisbane just keeps getting better.
Highlights are below of some of the local inner northern suburbs wins we have had in this Budget, some Community Arts and Nighttime Economy portfolio investments I have secured, and further information can be found at HERE
Preliminary Road Designs
Refer to Supporting Information – Service: 2.1.1.1
Description
Suburb
Proposed
2022-23
$000
Countess Street
Petrie Terrace
335
Local Access Network Improvements
Refer to Supporting Information – Service: 2.1.2.2
Description
Suburb
Proposed
2022-23
$000
Continuing
Allison Street at Abbotsford Road
Bowen Hills
117
Retaining Walls and Embankments
Refer to Supporting Information – Service: 2.1.2.2
Description
Suburb
Proposed
2022-23
$000
Howard Smith Wharves
Fortitude Valley
1,796
St Pauls Terrace
Bowen Hills
78
Road Construction Minor Traffic Density
Refer to Supporting Information – Service: 2.1.2.2
Description
Suburb
Proposed
2022-23
$000
Continuing
Abbott Street
New Farm
507
Major Traffic Improvements – Intersections
Refer to Supporting Information – Service: 2.1.2.3
Description
Suburb
Proposed
2022-23
$000
Adelaide Street and Creek Street
Brisbane City
483
Boardwalk Rehabilitation
Refer to Supporting Information – Service: 2.1.3.1
Description
Suburb
Proposed
2022-23
$000
Swing Bridge Control System Rehabilitation
New Farm
336
Continuing
City Reach Riverwalk
Brisbane City
5,185
Bridges and Culverts Reconstruction and Rehabilitation
Refer to Supporting Information – Service: 2.1.3.1
Description
Suburb
Proposed
2022-23
$000
Bowen Terrace Bridge Handrails
Fortitude Valley
155
Coronation Drive Bridge Access Construction
Brisbane City
185
Inner City Bypass Bridge Corrosion Protection
Bowen Hills
246
Kangaroo Point Southern Connection
Fortitude Valley/

Kangaroo Point

411
Story Bridge
Fortitude Valley/

Kangaroo Point

254
Victoria Bridge
Brisbane City/

South Brisbane

1,960
William Jolly Bridge
Brisbane City/

South Brisbane

2,234
Continuing
246
Inner City Bypass Drainage Repairs
Bowen Hills
321
Story Bridge Footpath Replacement Planning and Design
Fortitude Valley/

Kangaroo Point

84
Story Bridge Restoration Project
Fortitude Valley/

Kangaroo Point

694
William Jolly Bridge Moving Gantry Span 4-5
Brisbane City/

South Brisbane

1,102
Kerb and Channel
Refer to Supporting Information – Service: 2.1.3.1
Description
Suburb
Proposed
2022-23
$000
Fuljames Lane
New Farm
180
Moray Street
New Farm
135
Roads Network Resurfacing
Refer to Supporting Information – Service: 2.1.3.1
Description
Suburb
Proposed
2022-23
$000
Abbotsford Road
Bowen Hills
408
Agnes Street
Fortitude Valley
95
| | | |
| --- | --- | --- |
| Alford Street | New Farm | 55 |
| Baxter Street | Fortitude Valley | 120 |
| Bowen Street | Spring Hill | 94 |
| Brookes Street | Fortitude Valley | 185 |
| Caxton Street | Petrie Terrace | 187 |
| Fortescue Street | Spring Hill | 82 |
| Fuljames Lane | New Farm | 36 |
| Hale Street | Petrie Terrace | 981 |
| Hale Street Access | Petrie Terrace | 90 |
| Hazlewood Street | New Farm | 39 |
| Keid Lane | Spring Hill | 22 |
| Knapp Street | Fortitude Valley | 58 |
| Little Edward Street | Spring Hill | 151 |
| Martin Street | Fortitude Valley | 77 |
| Maud Street | Newstead | 127 |
| Moray Street | New Farm | 251 |
| Saint Pauls Terrace | Fortitude Valley | 206 |
| Tufton Street | Bowen Hills | 73 |
| Winn Street | Fortitude Valley | 43 |
Enhanced Safety Lighting
Refer to Supporting Information – Service: 3.3.3.2
Description
Suburb
Proposed
2022-23
$000
Continuing
Admiralty Towers II Park
Brisbane City
34
Maintaining Suburban Parks
Refer to Supporting Information – Service: 3.3.3.2
Description
Suburb
Proposed
2022-23
$000
Centenary Place Park
Fortitude Valley
97
Playground Replacements
Refer to Supporting Information – Service: 3.3.3.2
Description
Suburb
Proposed
2022-23
$000
New Farm Park
New Farm
177
Upgrading Facilities in Parks
Refer to Supporting Information – Service: 3.3.3.2
Description
Suburb
Proposed
2022-23
$000
City Botanic Gardens
Brisbane City
416
New Farm Park
New Farm
36
Drainage Construction and Resilience
Refer to Supporting Information – Service: 3.4.3.1
Description
Suburb
Proposed
2022-23
$000
Carrol Lane
Spring Hill
60
Stormwater Infrastructure
Refer to Supporting Information – Service: 3.4.3.1
Description
Suburb
Proposed
2022-23
$000
Albert Street and Margaret Street – Albert Street Cross River Rail
Brisbane City
3,122
Continuing
East Street
Fortitude Valley
3,232
Elystan Road
New Farm
2,611
Wickham Street
Fortitude Valley
3,018
Stormwater Drainage Rehabilitation
Refer to Supporting Information – Service: 3.4.4.1
Description
Suburb
Proposed
2022-23
$000
Abbotsford Road
Bowen Hills
146
Adelaide Street
Brisbane City
561
Boundary Street
Spring Hill
427
North Quay
Brisbane City
305
Continuing
Brunswick Street
New Farm
930
Community and Sport Partnership Program
Refer to Supporting Information – Service: 5.5.1.1
Description
Suburb
Proposed
2022-23
$000
Brisbane City Football Club
Newmarket
108
Downey Park Netball Association
Windsor
189
Everton Districts Sporting
Enoggera
140
GPS Rugby Club
Ashgrove
135
MacGregor Souths Cricket Club
MacGregor
216
Sandgate-Redcliffe District Cricket Club
Deagon
54
West Mitchelton Rugby League Football Club
Mitchelton
17
Community and Sport Partnership Program
Refer to Supporting Information – Service: 5.5.1.1
Description
Suburb
Proposed
2022-23
$000
Wests (Brisbane) Junior Rugby League Football Club
Bardon
292
Wests Juniors Australian Football Club
Taringa
46
Wynnum Vikings Australian Football and Sporting Club
Wynnum West
340
Wynnum Wolves Football Club
Tingalpa
108
Total
1,645
Footpath and Bikeway Reconstruction
Refer to Supporting Information – Service: 6.1.1.1
Description
Suburb
Proposed
2022-23
$000
Adelaide Street
Brisbane City
696
Bowen Terrace
New Farm
290
Brunswick Street
Fortitude Valley
86
Brunswick Street
New Farm
64
Butterfield Street towards Downey Park
Herston
53
Merthyr Road
New Farm
79
Petrie Terrace
Petrie Terrace
382
Pratten Street
Petrie Terrace
23
Turbot Street
Brisbane City
85
Wharf Street
Spring Hill
81