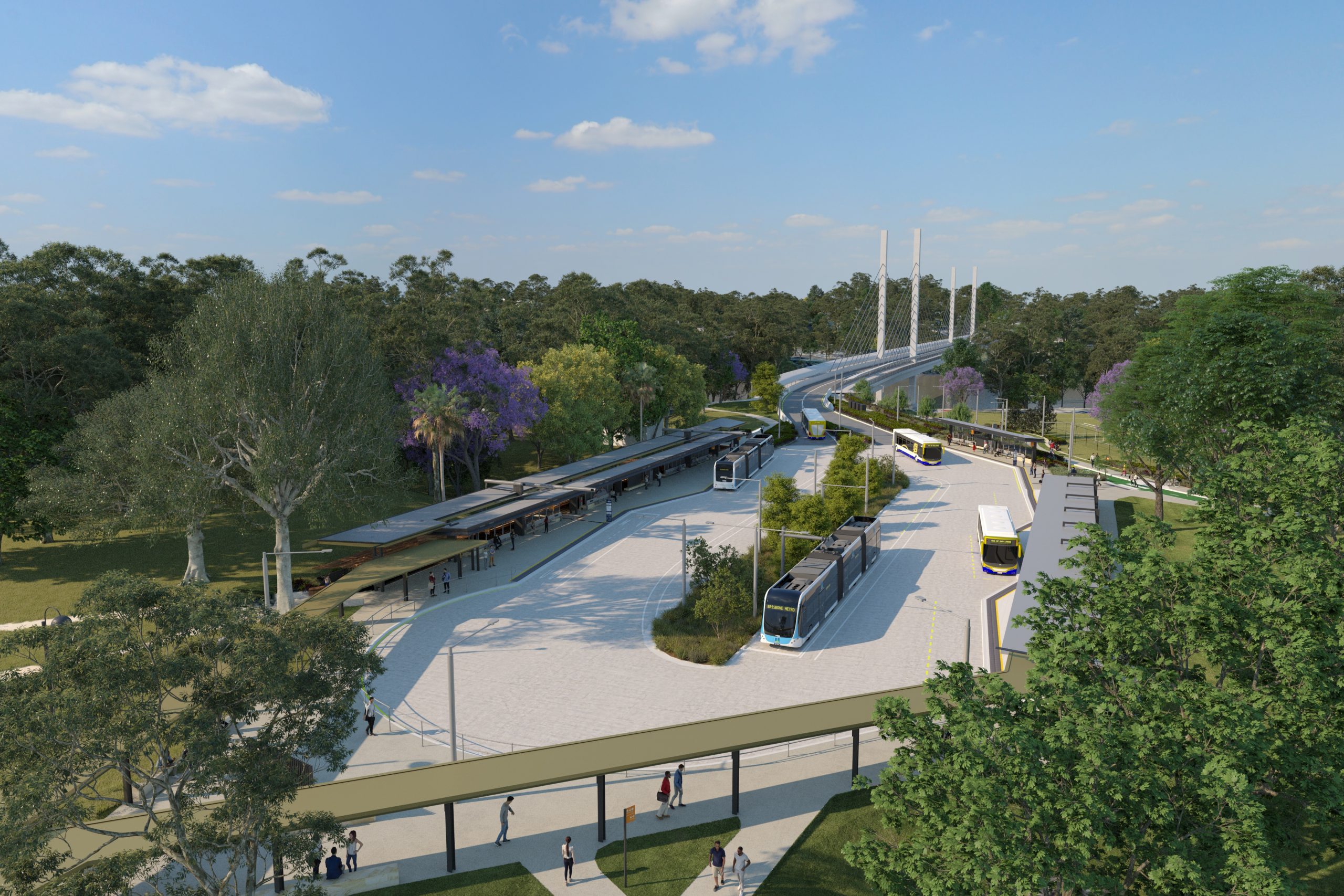 Thousands of university students and staff are set to benefit from the construction of a new station at Brisbane Metro UQ Lakes, as the review of Brisbane's bus network begins.
Lord Mayor Adrian Schrinner today unveiled the innovative designs of UQ Lakes Station along with plans to ensure future public transport services are tailored to meet demand.
"Brisbane Metro will deliver a fully-electric, turn-up-and-go public transport service with the greatest benefit to come during peak periods when most commuters travel," Cr Schrinner said.
"Students and staff travelling to and from the University of Queensland generate almost 20,000 bus trips every day, so this area is a critical part of the network.
"That's why we are powering ahead with our plans to construct a Metro station at UQ Lakes along with the installation of charging equipment at this location for the state-of-the-art vehicles.
"This charging equipment is the first of its kind in Australia, with the Metro flash chargers returning the vehicle to full capacity in just six minutes.
"As part of the upgrade, UQ Lakes Station will gain a third new platform, to allow Metro services to operate seamlessly with other bus routes, connecting students from across the city with turn-up-and-go services.
"The 19-station Brisbane Metro network will provide increased capacity and a better experience for all commuters when services start in 2024, while laying the groundwork for future expansion to other parts of Brisbane."
Civic Cabinet Chair for Transport Ryan Murphy confirmed Council would this week commence a Bus Network Review to ensure the benefits of Brisbane Metro are experienced throughout the suburbs.
"Brisbane Metro will deliver one of the biggest-ever increases in network capacity, allowing for an extra 30.4 million passengers to use the busway by 2031," Cr Murphy said.
"The Bus Network Review will ensure all this extra capacity is going to areas where demand for services is growing the most.
"Brisbane's bus network hasn't had a root-and-branch review for over thirty years, and with Metro services commencing in 2024, now is the time to start the discussion with the community about bus network changes.
"Without making changes to the network, passengers will continue to be caught in congestion, with currently more than 385 buses clogging up the Cultural Centre station during peak times.
"From today, we're asking our customers to tell us how they currently use public transport, so, we understand how an improved network can best work for them.
"Residents and commuters can register on Council's website to take part in the review, which commences with a short questionnaire about how they use the network today.
"In October, Brisbane residents will be able to see detailed proposals for the network, including how their local bus routes will change once Brisbane Metro services commence.
"This is about listening to residents who want more services in the suburbs, less time caught up in congestion and convenient, turn-up-and-go services."
UPGRADE AT UQ LAKES:
Upgraded northern UQ Lakes station platform and shelter to cater for Brisbane Metro
New south-east UQ Lakes station platform and shelter for bus services, noting the existing southern platform is retained.
Revitalised pedestrian pathway behind the upgraded northern UQ Lakes station platform, providing viewing platforms and amenity improvements overlooking the University of Queensland Alumni Gardens.
Reconfiguration of dedicated cyclist facilities, including improved connections between the University of Queensland and Eleanor Schonell Bridge.
600kW pantograph flash chargers – six minutes to charge the Brisbane Metro
BUS NETWORK REVIEW:
Brisbane City Council's bus operating subsidy will increase by 84 per cent to $183 million by 2025-26
Two new high-frequency lines, M1 and M2 will be introduced as part of Brisbane Metro, to replace Routes 111/160 and Route 66.
The introduction of Brisbane Metro will increase the capacity of the South-East busway by an additional 30.4 million passengers by 2031.
Transport for Brisbane's bus network has more than 200 routes, nearly 80 million passengers per year and over 300,000 trips per day (pre-COVID)
Over two-thirds of public transport trips in Brisbane are taken on the bus network, not the rail network. In spite of this, the rail network receives the vast majority of State Government public transport investment.
In the peak period up to 385 buses use Cultural Centre station in both directions, many of these will need to connect to Brisbane Metro services to improve frequency and reliability.
The review will introduce:

high frequency turn-up-and go services (M1 and M2) every 5 minutes from late 2024
more on-time services by avoiding inner city congestion
more services to a wider area of Brisbane
easy connections to high-frequency Brisbane Metro services at 19 stations

BUZ, Peak Rocket and City Glider services will continue to provide direct service to the inner city
Brisbane residents can register to take part in the review and complete a 90 second survey about how they currently use public transport via Council's website.
Residents will be provided an opportunity to have their say on detailed proposals for the network from October 2022.
For more information about Brisbane Metro UQ Lakes visit https://vickihoward.com/greenvictoriabridge/ and https://www.brisbane.qld.gov.au/traffic-and-transport/public-transport/brisbane-metro