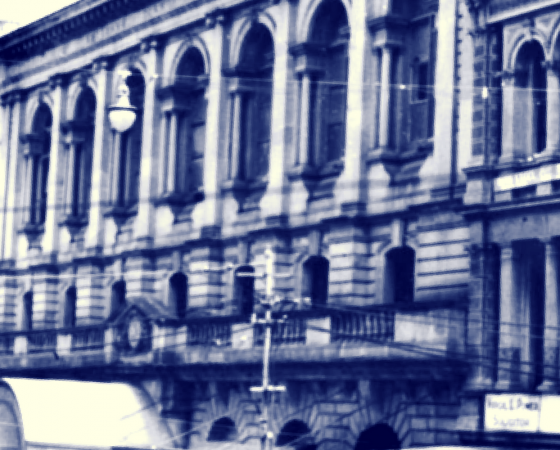 The Classic City Centre Heritage Trail takes you on a journey through a range of sites and events that have shaped Brisbane's history, including:
Brisbane's early convict history
'Great Fire of Brisbane' in the 1860s
Brisbane's commercial prosperity in the 1880s
Military presence in Brisbane in World War II
Brisbane in the 1970s
There are 26 points of interest along the Classic City Centre Heritage Trail. The trail begins in Queen Street, then passes City Hall to Ann Street and up Jacob's Ladder to Wickham Terrace. From Wickham Terrace move to Anzac Square, the GPO, St Stephen's Cathedral and back to Queen Street past MacArthur's Chambers on Edward Street.
Download:  City Centre Heritage Trail 
| Number | Name | Address | Description |
| --- | --- | --- | --- |
| 1. | Regent Theatre | 167 Queen Street, Brisbane | Built in 1929, the Regent gave Brisbane cinema-goers their first chance to experience a world-class 'picture palace'. |
| 2. | Brisbane Arcade | 160 Queen Street, Brisbane | This arcade was built in 1924. Upon opening, the shops were mostly ladies fashion shops. |
| 3. | The Great Fire of Brisbane | Corner of Albert and Queen Streets, Brisbane | On the 1 December 1864, a massive fire swept through the block bounded by Queen, Albert, Elizabeth and George Streets. The fire destroyed many buildings and became known as 'The Great Fire of Brisbane'. |
| 4. | Site of the Convict Barracks | 130 Queen Street, Brisbane | Between 1829 and 1830, a multi-storey stone convict barracks was constructed on the corner of Queen and Albert Streets. It was the largest building in the settlement at this time and provided basic accommodation for up to 1,000 convicts. |
| 5. | Brisbane City Hall | 64 Adelaide Street, Brisbane | Brisbane City Hall was completed in 1930 and is the largest City Hall in Australia. |
| 6. | Stolen Generation Memorial | King George Square | The memorial to the Stolen Generations was dedicated in 1998. Take a moment to read the plaque and the apology speech given by Prime Minister Kevin Rudd to the Indigenous people of Australia in 2008. |
| 7. | Albert Street Uniting Church | 319 Albert Street, Brisbane | Originally known as the Albert Street, Methodist Church this striking red brick church was officially opened in 1889 and was designed by notable Brisbane architect, GHM Addison. |
| 8. | Ann Street Presbyterian Church | 145 Ann Street, Brisbane | This church was built in 1871-1872 and replaced an older 1858 church that had been destroyed by fire. |
| 9. | School of Arts | 166 Ann Street, Brisbane | This two-storey stone building was originally built in 1866 as the 'Servants Home'. It was established by a philanthropic committee for the protection and support of young immigrant women. |
| 10. | People's Palace | 308 Edward Street, Brisbane | 'The People's Palace' was built between 1910 and 1911 as a temperance hotel by the Salvation Army. |
| 11. | World War II Air-Raid Shelter | Beside Jacob's Ladder, Turbot Street, Brisbane | Brisbane City Council constructed 200 public air raid shelters in the city centre during World War II. Many of the shelters were demolished after the war, but a small number survive today as bus shelters, public toilets or park shelters. |
| 12. | Jacob's Ladder and the former site of the Trades Hall | 224 Turbot Street, Brisbane | This steep set of steps is known as 'Jacob's Ladder' and has provided a pathway from Edward Street to Wickham Terrace from as early as the beginning of the 20th century. Beside the steps, the impressive Trades Hall was built in 1923, but was demolished in the 1980s. |
| 13. | The Windmill Tower | 226 Wickham Terrace, Spring Hill | Built in 1828, this structure is Queensland's oldest standing building and is one of the only two surviving convict-built structures in the state (the other being the Commissariat Store in William Street). |
| 14. | Service Reservoirs | 230 Wickham Terrace, Spring Hill | In 1871, in an effort to improve the supply of water to the city, the first service reservoir was built on Spring Hill. The second was built in 1882. |
| 15. | Tower Mill Motel | 239 Wickham Terrace, Spring Hill | In July 1971 an anti-Apartheid protest took place outside this motel, when the South African Rugby Union Team, the Springboks, was staying at the motel. |
| 16. | Craigston | 217 Wickham Terrace, Spring Hill | Built in 1927, Craigston is Brisbane's first multi-storeyed apartment block. |
| 17. | The Green House | 183 Wickham Terrace, Spring Hill | This house was built between 1906 and 1907 and its first tenant was Dr Thomas Morgan. The house represents Wickham Terrace's rise as Brisbane's renowned medical precinct. |
| 18. | Baptist City Tabernacle | 163 Wickham Terrace, Spring Hill | The Baptist City Tabernacle was built in the late 1880s and was designed by congregation member and respected architect Richard Gailey. |
| 19. | Wickham House | 155 Wickham Terrace, Spring Hill | In 1955 a crime occurred on this part of Wickham Terrace when a gunman shot and killed two doctors and wounded another. |
| 20. | Central Railway Station | 270 Ann Street, Brisbane | Brisbane's Central Station was built in 1889 and was the second inner-city station, the first being Roma Street Station. |
| 21. | Anzac Square | 228 Adelaide Street, Brisbane | Anzac Square was first created to commemorate all Queenslanders who had fought and died in World War I and was dedicated on Armistice Day, 1930. |
| 22. | Former Colonial Mutual Life Building | 289 Queen Street, Brisbane | This Art Deco style building was built between 1930 and 1931 as the Colonial Mutual Life Assurance Society (CML) building. One of the important features of this building is the multi-coloured Benedict facing stone. |
| 23. | General Post Office (GPO) and site of the former Female Factory | 261 Queen Street, Brisbane | The Brisbane GPO was built in 1872 to replace a temporary post office that operated elsewhere in Queen Street. It replaced the convict-built Female Factory that had been built in 1829 to house female convicts. |
| 24. | St Stephen's Catholic Chapel | 249 Elizabeth Street, Brisbane | The first service to be held in this small church was in May 1850. This was Brisbane's first permanent place of Catholic worship. |
| 25. | Cathedral of St Stephen | 259 Elizabeth Street, Brisbane | The Catholic Cathedral was opened in 1874 and remains the centre for Catholic worship in Brisbane. |
| 26. | MacArthur's Headquarters | 229 Queen Street, Brisbane | This building was the headquarters of US General Douglas MacArthur, leader of the Allied South West Pacific campaign during World War II. |