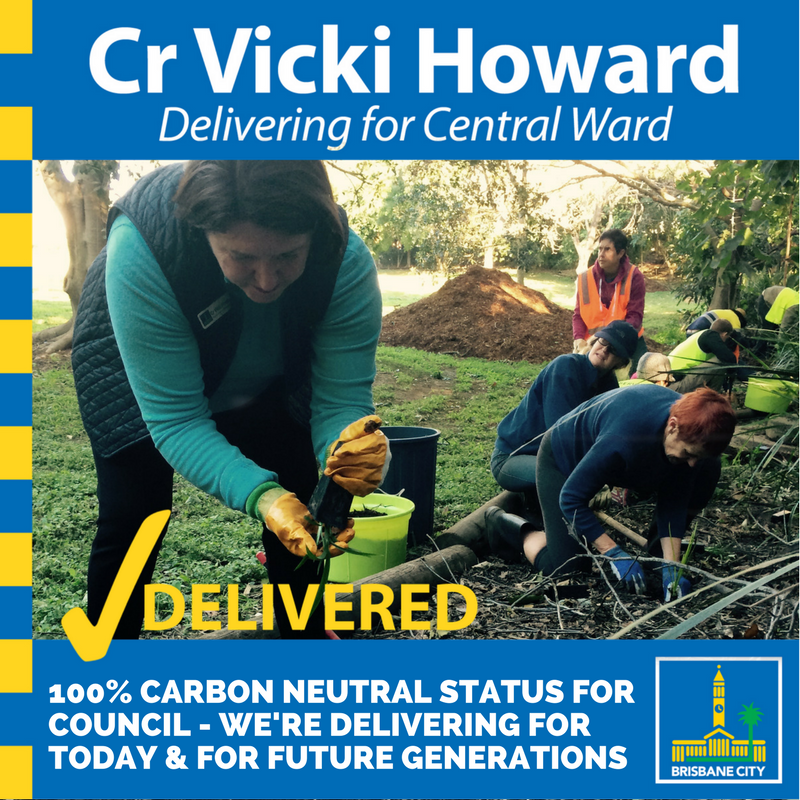 Brisbane City Council has achieved a 100 per cent carbon neutral status for the first time, continuing to fulfil ourvision of a clean, green and sustainable Brisbane.
As an organisation Council had effectively eliminated its carbon footprints through offsets, by using green power and through a suite of energy efficiency and emission reduction measures.
"This means that our greenhouse gas emissions are equal to zero and Council has met requirements outlined by the Australian Government's National Carbon Offset Standard," Cr Howardsaid.
"Our carbon neutrality has been achieved through investments in internal energy efficiency and emissions reduction projects, along with renewable energy and carbon offset purchases.
"As part of maintaining our carbon neutral status, Council will eliminate and offset around 800,000 tonnes of carbon emissions each year, with an annual investment of $6 million.
"This involves continuing to monitor and measure emissions from all sources, including landfill, electricity use, fleet, buses and ferries, in order to determine Council's ongoing emissions.
"In addition to continuing to implement solar technology and energy efficient lighting, Council will use electricity from renewable energy sources and purchase independently verified carbon offsets.
"Council is the only carbon neutral organisation in Australia with an operating landfill and a large public transport fleet and adds to its recognition as Australia's Most Sustainable City (2014, 2016).
"This achievement is part of our broader commitment to a clean, green and sustainable Brisbane, which started 25 years ago when we commenced the Bushland Acquisition program to protect at-risk koala habitats."
Cr Howard said that it was important for Council to lead by example, encouraging Brisbane residents to all play their part by reducing their household greenhouse gas emissions.
"Through our sustainability arm CitySmart, we have a number of initiatives to help people understand their impact on the environment, through electricity usage, waste recycling and transport.
"Our Green Heart programs for homes and schools, Green Heart Fairs, Revive pop up markets, Tip Shops, Active School Travel and Cycling Brisbane are all designed to help the people of Brisbane reduce their impact on the environment," she said.