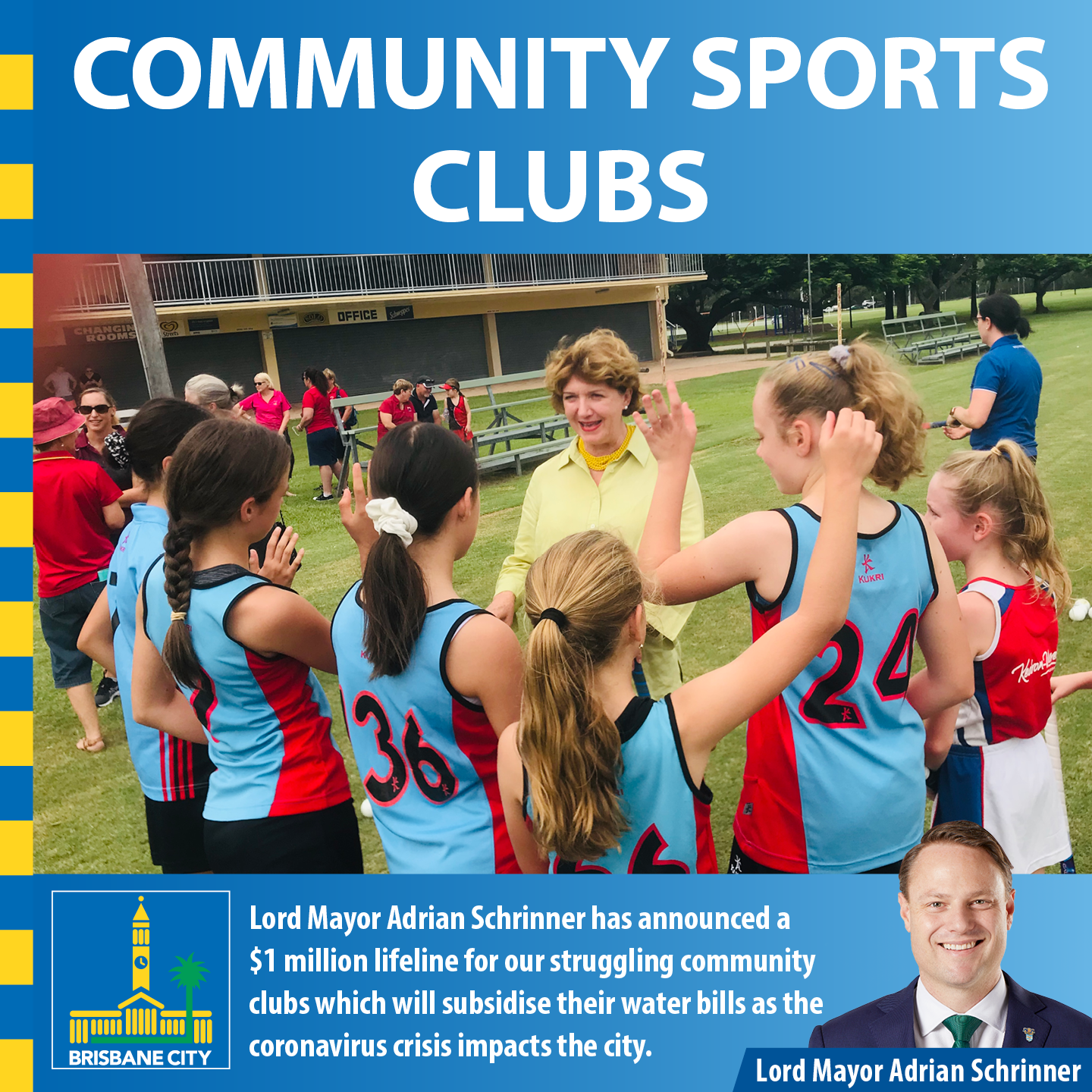 Council gives community sports clubs $1 million lifeline
More than 150 eligible community sports clubs across Brisbane will be given a one-off $5000 water payment rebate as the Schrinner Administration unveils its $1 million plan to help struggling clubs cover the cost of maintaining their grounds while closed due to coronavirus.
Lord Mayor Adrian Schrinner said local sporting clubs are the life blood of community participation, but coronavirus and State Government restrictions had forced most to close their doors and with no revenue.
"We want to see these clubs reopen and welcome people back as soon as possible and when they do, we want the fields to be well-watered and ready for use," he said.
"These not-for-profit organisations play a valuable role in building resilient, connected, healthy and vibrant communities, and now, more than ever, they need our help to ensure they remain much-loved spaces for our residents of all ages to enjoy.
"Council is providing up to $1 million to fund about 200 million litres of water, enough to fill 80 Olympic sized swimming pools, for our community sporting fields and playing surfaces.
"Council will be giving sports clubs a one-off water payment rebate of $5000, which will pay for about one million litres of water, to maintain their playing fields.
"Without enough water, especially over an extended period, the condition of playing fields can significantly deteriorate which can create safety risks for players or even leave the fields unplayable."
Cr Schrinner said Council had reached out to more than 350 community organisations that lease Council facilities to understand their needs during this crisis.
"The feedback from clubs was that 80 per cent of them had no revenue source and that 78% needed support for utilities payments," he said.
"We have listened to these groups and will apply this $5000 rebate directly to eligible sport clubs' water accounts via Urban Utilities, to cover both the retail component and the State bulk water charge.
"Under the State's water pricing not-for-profit organisations pay the same price for water as a commercial business, and the Queensland Government bulk water charges account for nearly 65 per cent of these costs.a
"The cost of bulk water is being driven up by the State Labor Government and I call on the State to step up and help our hardworking clubs and match Council's contribution."
Cr Schrinner said this $1 million in funding for water rebates was in addition to existing measures introduced by Council to support clubs.
"More than 600 Brisbane clubs and organisations have had their community lease and license rent charges waived as part of the $7.9 million business relief package.
"This initiative has meant no club on Council land will pay a cent of rent between 1 March 2020 and 30 June 2020, putting $638,000 back into the pockets of these groups. These organisations also have the option to defer rates for up to nine months.
"This water rebate is also in addition to the rebate announced in September 2019 for sporting groups of up to $5000 by paying 50 per cent of the water retail charges in the 2019-20 financial year.
"We will continue to take proactive action to support the not-for-profit sector and look forward to our much-loved community clubs being able to reopen their doors to the community soon."