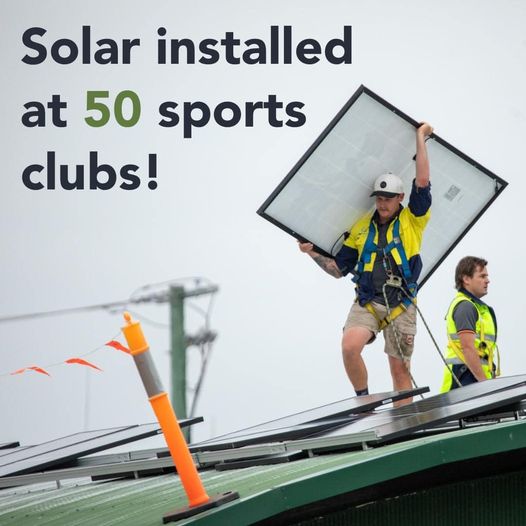 Council Funds Sports Club Solar systems saving more than $250,000 a year on electricity costs with the 50th club now connected to the renewable energy.
Lord Mayor Adrian Schrinner said the Resilient Clubs Support Program had invested almost $740,000 since late 2020 to install solar system at 50 local sport and community clubs.
"Installing solar power and cutting costs for 50 clubs is a significant milestone in this program," Cr Schrinner said.
"Right now, cost of living is going up and up, but the Resilient Clubs initiative helps clubs cope with rising energy prices by adopting clean, green, and sustainable practices.
"These 50 solar panels installed to date are saving our local community clubs more than $250,000 on electricity costs alone, putting more money back into the pockets of these clubs so they can invest it in their players, volunteers and the community.
"Our solar panels have already saved an estimated 1220 tonnes of CO2 emissions, which is the equivalent of taking 388 cars off the road every year.
The 50th solar panel was recently installed at Bulimba Hockey Club, with their energy-intensive irrigation, refrigeration and internal lighting now to be powered by sustainable solar.
Bulimba Hockey Club Secretary Linda Francis said the solar system was just one of many ways the club benefits from the program.
'We have had energy-saving devices installed within the clubhouse, self-timing lights in amenities, changing internal clubhouse lights to LED, solar panels installed and online webinars which have been useful with handy hints and grant opportunities,' Ms Francis said.
Cr Schrinner said the Resilient Clubs initiative helped reduce costs over the long term.
"Every club is different, and we work closely with each organisation to determine the best and most suitable support and then we provide information, expert suppliers and funding," he said.
"Installing solar panels helps clubs spend less on maintenance and more on players, with the one-off payment for installing the solar panels providing ongoing cost reduction for the clubs every time a bill lands."
For more information on the Resilient Clubs Support Program, visit Brisbane Sustainability Agency's website at www.sustainablebrisbane.com.au/programs/resilient-clubs-support-program/
RESILIENT CLUBS SOLAR INSTALLATIONS:
Acacia Ridge Community Support, Acacia Ridge
AFL Queensland, Yeronga
Algester Branch Little Athletics Centre, Algester
Annerley Recreation Club Incorporated, Greenslopes
Arana Leagues Club, Keperra
Aspley Little Athletics Centre, Geebung
Aspley Rugby League Football Club, Zillmere
Bardon Community Kindy, Bardon
Bardon Latrobe Football Club, Bardon
Baseball Queensland, Hendra
Brighton District Soccer Club, Brighton
Brisbane Hockey Management Group, Chermside
Brisbane Racing Club, Acacia Ridge
Brisbane Visual Arts Community, Tarragindi
Bulimba Hockey Club, Morningside
Bulimba Memorial Bowls and Community Club, Balmoral
Camp Hill Community and Sporting Club, Camp Hill
Centenary Rowing Club, Riverhills
Chermside Bowls Club, Chermside
Eastern Suburbs Soccer Club, East Brisbane
Easts Mt Gravatt Junior Rugby League Football Club, Mansfield
Easts Rugby Union, Norman Park
Everton Districts Cricket Club, Chermside West
Everton Districts Sporting Club, Enoggera
Ferny Grove Bowls, Sports and Community Club, Ferny Grove
Forest Lake Junior Rugby Union Club, Forest Lake
Greenslopes Bowls and Community Club, Greenslopes
Moorooka District Australian Football Club, Moorooka
Inala Community House, Inala
Indians Baseball Club, Runcorn
Kedron Football Club, Kedron
Mt Gravatt Youth and Recreation Club, Mansfield
Northern Suburbs Hockey Club, Ashgrove
Norths St Josephs Junior Rugby League Football Club, Virginia
Queensland Gaelic Football Association, Willawong
Queensland Lions Football Club, Darra
Souths United Soccer Club, Runcorn
Spanish Centre, Acacia Ridge
St Catherine's United Football Club, Middle Park
St Paul's Uniting Soccer Club
Sunnybank Rugby Union Club, Macgregor
Taringa Rovers Soccer Football Club, Indooroopilly
Tarragindi Churches Tigers Sporting Association, Tarragindi
The Pacific Islands Council Qld, Indooroopilly
University of Queensland Football Club, Chapel Hill
Community Living Association, Wavell Heights
Western Districts Rugby Football Club, Toowong
Wests Mitchelton Rugby League Football Club, Mitchelton
Port Brisbane Football Club, Pinkenba
Yeronga Park Kindergarten Association, Yeronga
For more information on how we are making Brisbane the most sustainable capital city, just visit https://vickihoward.com/carbonneutral/