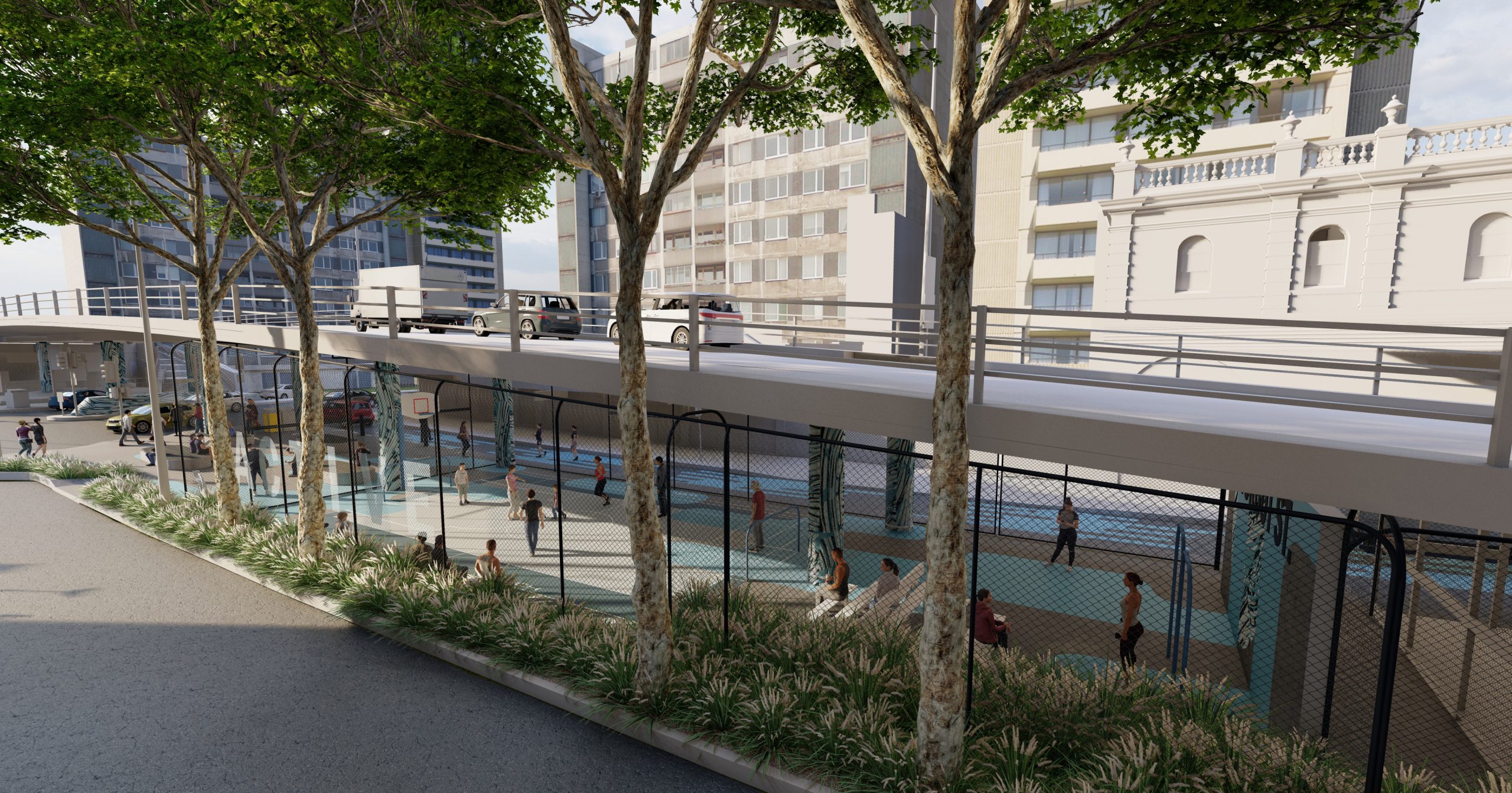 Works are underway to deliver Brisbane's first ever CBD sports court, giving people a free space to go and play sports like basketball and handball located under the Turbot Street underpass, it's a Court near the Courts.
Lord Mayor Adrian Schrinner said the new sports court at the intersection of Roma and Turbot streets, just a one-minute walk from King George Square, will deliver a new opportunity for residents and visitors to get active, as well as enhance the street scape.
"Brisbane is the best place to live, work and relax and this new inner-city sports court is set to be a hit with residents and visitors," Cr Schrinner said.
"Through creative planning, we're transforming a pretty ordinary looking space underneath a road overpass into a fantastic sports court."
Features of the space include a shaded, fenced multi-court space for a range of ball sports, bleecher-style seating, a drinking fountain, artworks, and landscaping
The new sports court was recently approved by Brisbane City Council as an extension to Mirvac's recently completed Heritage Lanes at 80 Ann Street.
Cr Schrinner said it will bring vibrancy and life to what is an unsightly and underutilised area.
"I can see this new urban sports court being really popular, particularly with CBD workers keen to organise a game of basketball during their lunch hour as well as before or after work," he said.
"I expect the court will also be used for a range of other sports, like pickleball and handball.
"If successful, this model of using planning outcomes to transform nearby underutilised and unattractive spaces into urban sports courts or other kinds of public spaces could be used at other locations across Brisbane.
"Brisbane just keeps getting better and I am proud of the ways the city is evolving and making positive changes to benefit residents now and into the future."
Mirvac Head of Development Stuart Penklis said the commencement work at the Turbot Street Underpass is a major milestone for Heritage Lanes at 80 Ann Street.
"We look to providing a safe, accessible and functional public space to the community," Mr Penklis said.
"After a number of years working closely with Brisbane City Council, we're now pleased to be funding and commencing the delivering this amenity, which will be a key contributor in the transformation of this vibrant new city precinct."
Works on the court is expected to be completed in 2023.