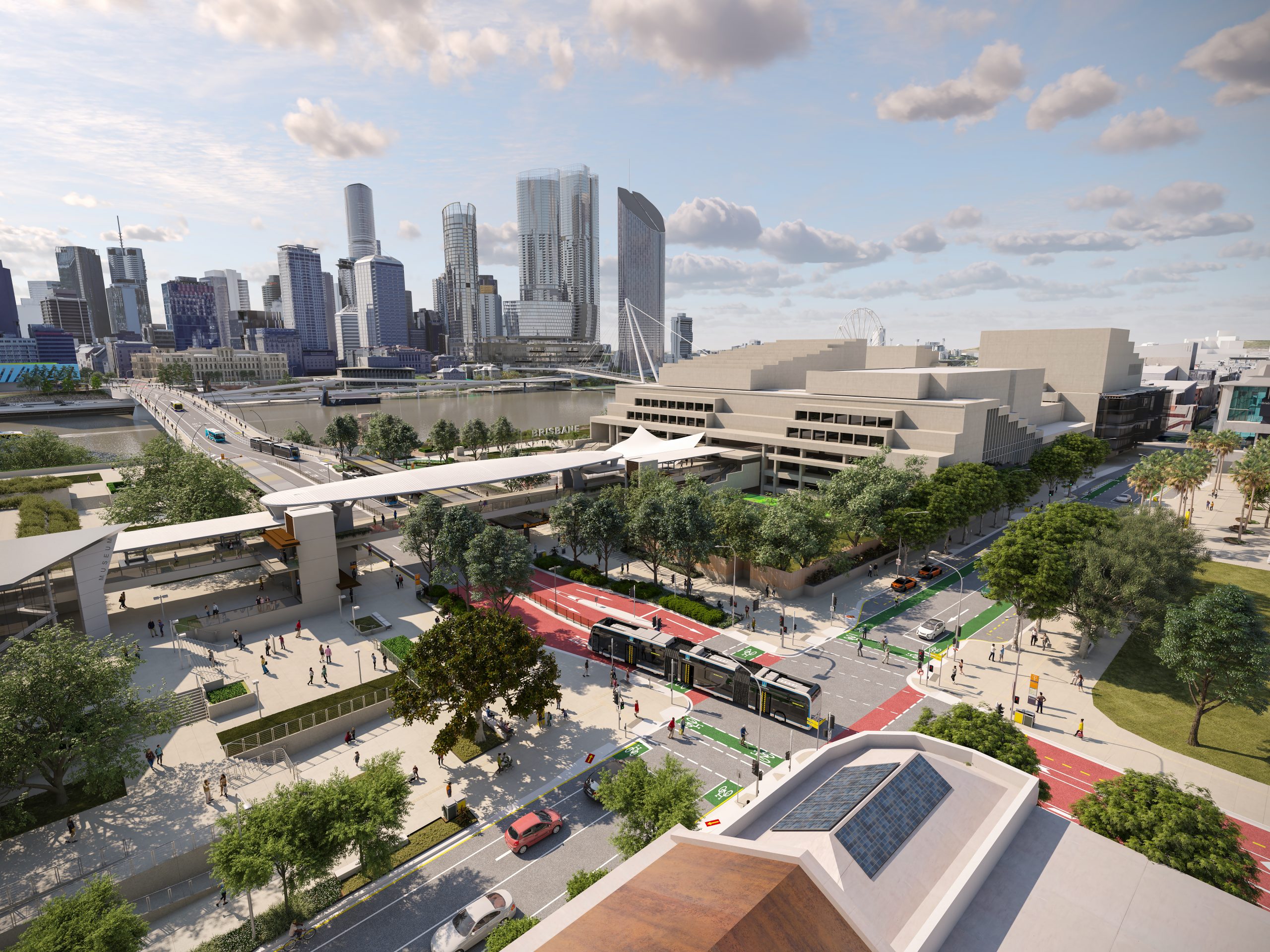 Cultural Centre Platform1 Complete as the first stage of the Cultural Centre station transformation is complete with the busy precinct being redesigned ahead of the introduction of Brisbane Metro.
Lord Mayor Adrian Schrinner said the recommencement of bus services from the upgraded Platform 1 marked a significant milestone for the game-changing Brisbane Metro project.
"The upgraded Cultural Centre station will be more than just a transport hub, it will be an entirely new precinct," Cr Schrinner said.
"Brisbane is Australia's fastest growing capital city with significant population growth so we must deliver new public transport to keep our city moving and reduce congestion.
"More than two-thirds of public transport trips in Brisbane are taken on the bus network, with almost 65 million bus trips taken in Brisbane in the past financial year.
"The turn-up-and-go, fully-electric Brisbane Metro project will make commuting far more convenient, particularly during peak times.
"With connections at 18 stations the Brisbane Metro will cater for our growing city and create capacity for an additional 30 million passengers by 2031.
"More than 10,000 people catch a bus to or from the Cultural Centre every day and this redesign will improve the bus network, increase capacity at the station, and deliver better connections into the adjoining arts and cultural precinct."
Platform 1 is the first of three platforms being upgraded at the Cultural Centre. The completed stage 1 works included removing of an old platform, relocating under-road services, and building a new platform. Temporary platforms have been used to keep the station open during construction.
The transformation of Cultural Centre station will continue into 2024, with future works to include the construction of platforms 2 and 3, upgraded station lifts, new intersection crossings, a bicycle and e-mobility path, upgraded footpaths and tree planting.
The $1.4 billion Brisbane Metro will deliver a 21-kilometre service, upgraded stations, new tunnel under Adelaide Street, new depot at Rochedale and 60 new fully-electric vehicles. This does not include the proposed new Woolloongabba busway station which is a separate project being delivered by the State Government at a later stage.
Cr Schrinner said in addition to the construction at Cultural Centre station, there were works at more than ten locations across the city to deliver the infrastructure needed for the turn-up-and-go, fully-electric service.
"There are ongoing works at the Metro depot at Rochedale, as well as Buranda, UQ Lakes and RBWH stations to increase accessibility and capacity at our city and suburban busway stations, as we get ready to implement services next year," Cr Schrinner said.
"As our city continues to grow, it's essential we make public transport a more attractive option for residents and visitors by making it easier to get to the places people they love."
Civic Cabinet Chair for Transport Councillor Ryan Murphy said as works continued at the Cultural Centre the free South Brisbane Loop trial would be extended for six months to mid-2024.
"The free service launched in January making it easy for people to get to destinations around South Brisbane, including South Bank Parklands, the State Library, QPAC and the Montague Markets.
"From 18 September the South Brisbane Loop will start service earlier in the day, with the first service to start at 7am Monday to Friday, and 8am on weekends.
As we have made the Cultural Centre Platform1 Complete visit www.vickihoward.com/citytosouthbankvision for more information about the pedestrian and public transport upgrades