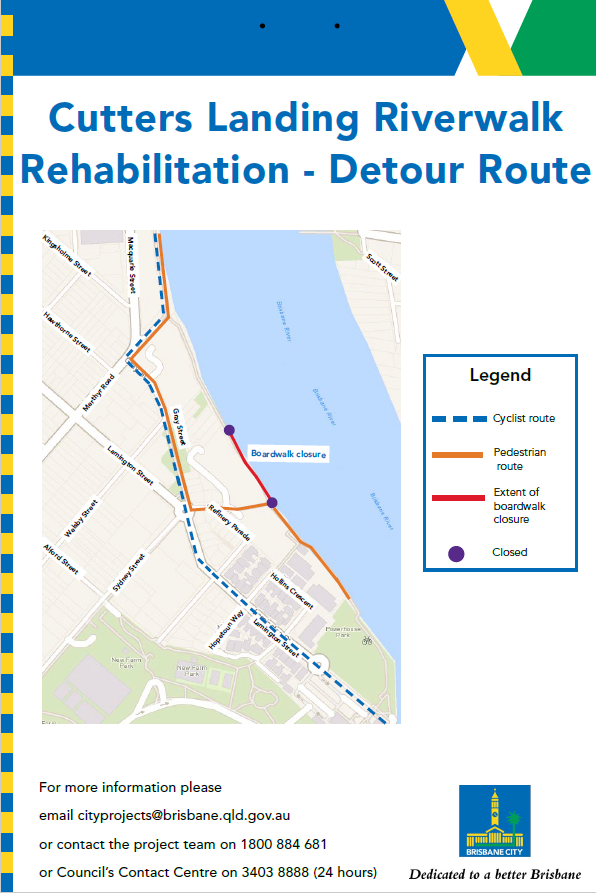 Cutters Landing Riverwalk Rehabilitation
Stage 2 works – temporary partial riverwalk closure and detour
WHAT WORKS ARE COMING UP?
Works are required to repair and replace elements of the riverwalk to ensure the riverwalk remains safe for ongoing community use.
This includes repairing and replacing some deck panels and supporting beams, concrete repair works and applying corrosion protection to elements of the riverwalk.
This work will take place from 27 January until March 2022 – weather and site conditions permitting.
Works will generally take place Monday the Friday between 6.30 am and 6.30 pm – Some out of hours works may be required to take advantage of favourable tide conditions.
WHAT DOES THIS MEAN FOR ME?
As part of Stage 2 works, a section of the Cutters Landing Riverwalk between Merthyr Road and Refinery Parade will be temporarily closed for six to eight weeks for more significant activities.
A detour will be in place during the closure. Please find attached a detour map.
WHAT DOES THIS WORK INCLUDE?
During maintenance inspections of the riverwalk, Council identified some of the concrete deck panels and supporting sections of the riverwalk exhibited cracks and signs of onset of corrosion.
Therefore, works will be undertaken under the riverwalk and also to certain deck panels to extend the serviceable lifespan of the structure and ensure the riverwalk remains safe for ongoing community use.
Stage 1 works were completed in October 2021 with Stage 2 works expected to be completed by April 2022, weather and site conditions permitting.
WHY IS THIS WORK HAPPENING?
This important rehabilitation project forms part of Council's commitment to improving the quality of life for residents while ensuring our city has the services and infrastructure to meet the needs of future generations.
We appreciate your patience and understanding whilst these important works are undertaken.
To find out more about these works, you can contact BCC City Projects on 1800 884 641 during business hours.
For more information on Central Ward Infrastructure just visit https://vickihoward.com/central-ward-infrastructure-wins and https://www.brisbane.qld.gov.au/traffic-and-transport