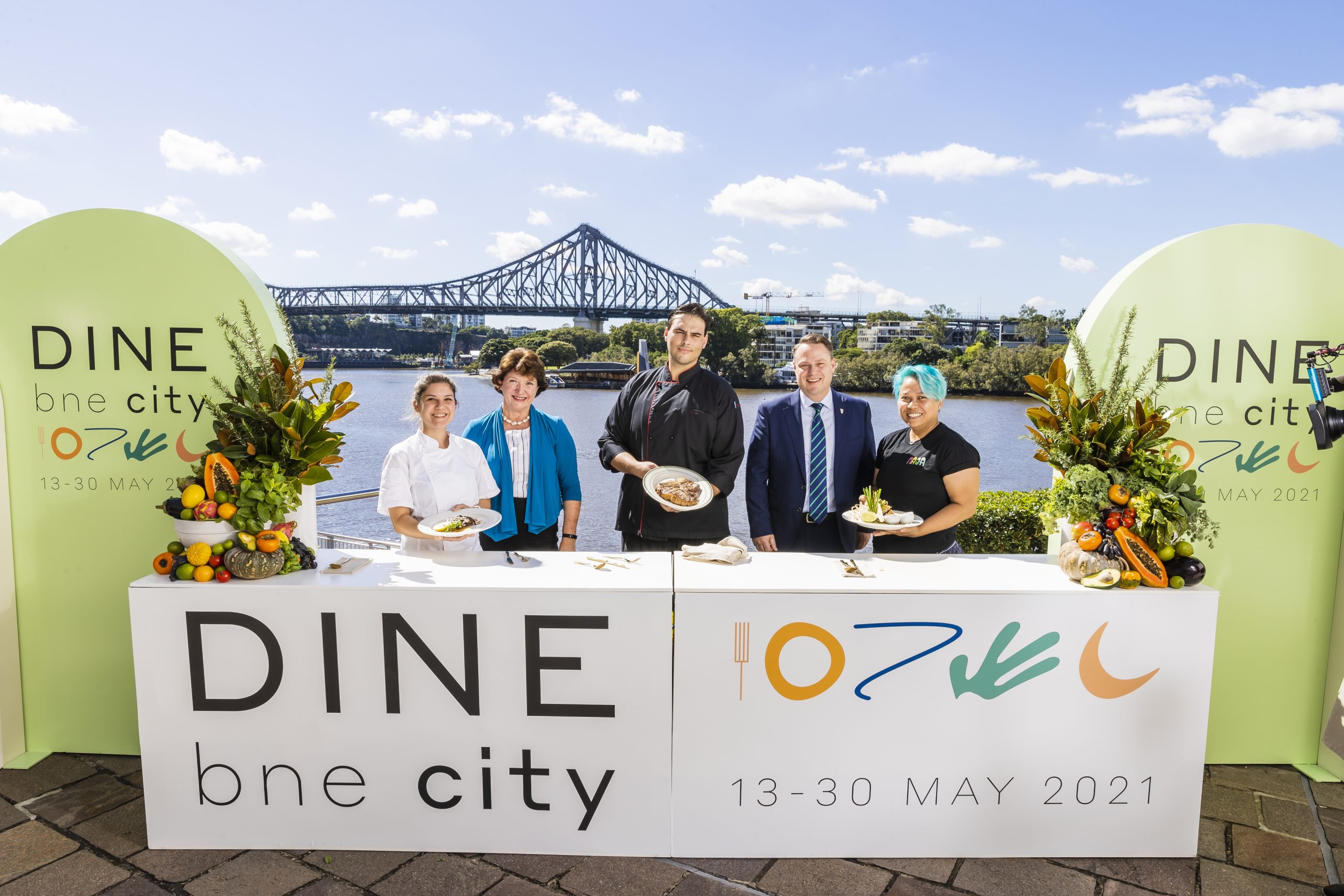 Dine Brisbane City with more than 50 Central Ward restaurants and bars will be serving up dining deals as part of a two-week campaign to reignite Central Ward's dining scene.
Lord Mayor Adrian Schrinner said Dine BNE City would run from 13-30 May and culminate in the return of the popular Sea to the City event, the alfresco seafood event by the river in the CBD.
"Brisbane has amazing restaurants and bars, offering everything from sophisticated suppers to relaxed riverside lunches and hidden laneway cocktail bars," Cr Schrinner said.
"This campaign will make it incredibly tempting for locals and visitors to enjoy a meal or drink out, with 80 delicious lunch, dinner and bar offerings across 50 city venues.
"From a $25 lunch and drink deal at Blackbird Bar & Grill to a $99 eight-course Japanese tasting menu at Sake, people will be able to experience some of Brisbane's best venues at a very competitive price.
Cr Vicki Howard said many of our city hospitality venues experienced a decline in lunch break and after-work patronage during the global coronavirus pandemic.
"I'm confident these two weeks of offers in Central Ward will bring the economic boost many of these traders have been patiently waiting for," she said.
Cr Howard said the food frenzy would conclude with Sea to the City on Sunday 30 May, which would bring the return of Moreton Bay bugs, oysters, and a seafood trail along the City Reach.
"There will be 16 riverside restaurants putting forward their best seafood offerings on this day, so if you love sensational seafood, this is the event for you," she said.
For more information about Dine BNE City, participating venues and events visit www.bnecity.com.au/dine

Deals include:
Let's Do Lunch – Choose from exclusive $25 and $35 lunch offers,
Supper Club – A selection of curated dining experiences, featuring 3 or 5-course seasonal menus,
Bar Safari – A self-guided trail of bars and hidden gems featuring signature food and beverage pairings – think grazing and grapes, craft brews and bites, or cocktails and canapes.

Dine Brisbane City venues:
(Bolded are venues also part of the Sea to the City event)
Alchemy
Bar Pacino
Blackbird Bar & Grill
Boom Boom Room
Brew Café & Wine Bar
Brisbane Phoenix Chinese Restaurant
Buffalo Bar
Cheeky Poke
City Winery
COPPA Spuntino
Donna Chang
Fat Angel Sports Bar
Fat Noodle
Fatcow Steak & Lobster
Friday's Riverside
George's Seafood Paragon
Goldfinch Restaurant
Grape Therapy
Greenglass
Hellcat Maggie
Isle Lane
Jimmy's on the Mall
Jumbo Thai
Lennon's Restaurant & Bar
LUCHA Kitchen & Bar
Madame Wu
Massimo Restaurant & Bar
Milano
Mr & Mrs G's Riverbar
Mr Edward's Alehouse
Naga Thai
Navala Churrascaria
New Shanghai
Patina at Customs House
Persone Italian
Pig 'N' Whistle
Port Office Hotel
Rico Bar & Dining
Riverbar & Kitchen
Riverland
Sake Restaurant & Bar
Santa Monica Pizza & Burger
Sixteen Antlers
Super Whatnot
The Bavarian
The Croft House
The Pav Bar
The Pool Terrace (Hyatt Regency)
The Walnut Restaurant
Tokyo Premium
Vapiano
Vintaged Bar & Grill
Walter's Steakhouse & Wine Bar
Will & Flow
Winghaus
Click here for the menu – Dine BNE Offers May 2021