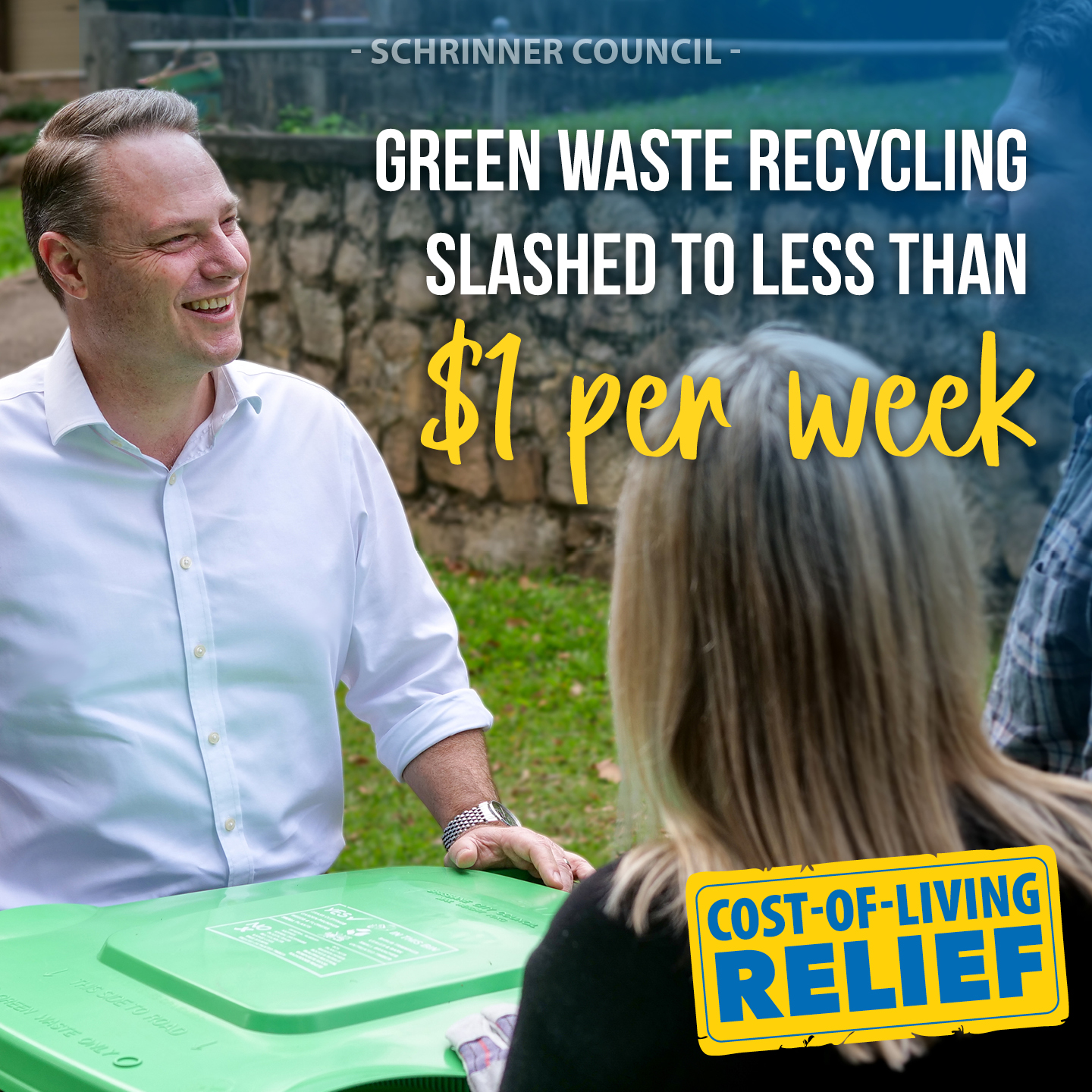 Green waste recycling bin fees will be slashed from July 1 so Brisbane households can cut costs and stay sustainable.
Under the Schrinner Council's $80 million commitment to cost-of-living reduction measures, the annual green waste recycling bin fee will be cut from $93 to $45.
Lord Mayor Adrian Schrinner said his Council team was dedicated to helping households deal with rapidly rising living costs.
"Rising living costs are the number one issue for Brisbane households right now and that's why our Budget is focused on helping them," he said.
"We are also committed to ensuring the amount of green waste that gets diverted from landfill continues rising rapidly so Brisbane remains clean and green.
"Slashing the green waste recycling bin cost will help the thousands of households who have one and encourage more to adopt this simple and sustainable way of disposing green waste."
About 138,500 Brisbane households currently have green waste recycling bins which get collected fortnightly.
It follows other 2023-24 Brisbane Budget cost-of-living measures, including:
➢ $2 Summer Dips Initiative to slash the entry fee at Council's 22 pools to $2 everyday
throughout summer
➢ Eliminating and radically reducing permit fees for hundreds of events and festivals to encourage
free and affordable fun
➢ New 24/7 library lockers to make it easier to borrow books and other items for free
➢ Continuing to provide free off-peak travel for seniors
➢ Maintaining the cheapest rates in south east Queensland, along with on-time payment discounts
and generous rebates for pensioners
Cr Schrinner said encouraging residents to keep and adopt green waste recycling bins would also help them adapt in future to a food organics recycling scheme.
"Our strategy of making green waste recycling bins even cheaper is also squarely aimed at helping Brisbane households gear-up for a bigger roll out of our food waste recycling program," he said.
"I guarantee we'll keep collecting your red-top bin weekly for as long as I am Lord Mayor.
"Our plan is in stark contrast to Labor's reckless and premature approach.
"When they say they want to immediately introduce a city-wide Food Organics and Garden Organics collection service, what they really mean is they will immediately cut your red-top bin
collection to fortnightly.
"That's the stark reality of what they are pushing.
"We've seen plenty of smaller councils rush into poorly planned food waste recycling schemes that have angered residents.
"Brisbane is by far Australia's biggest council so it's vital we properly plan the roll-out of food waste recycling while working to gear-up the industry's capacity for this important waste reduction
reform."
The decision to slash the annual cost of green waste recycling bins comes after the Schrinner Council dropped the $30 establishment fee in 2019.
As a result, an additional 45,000 green waste recycling bins have now been adopted by Brisbane households while an extra 14,000 tonnes of green waste is diverted from landfill each year.
The Schrinner Council also continues to provide a $70 rebate for the purchase of home composting equipment, with more than 11,500 households receiving the rebate since it was introduced in 2020.