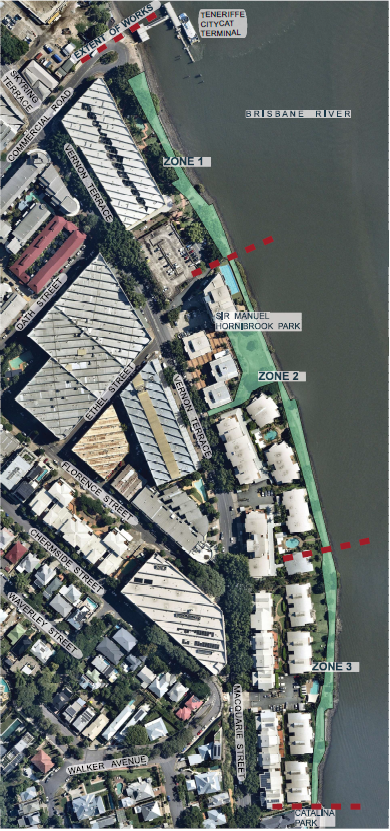 Not only are Lord Mayor Adrian Schrinner and I creating the biggest new public park in 50 years at Spring Hill's Victoria Park, we are making sure we maintain our busy inner north parks too – like Sir Manuel Hornibrook Park at Teneriffe.
Named after Queensland builder, Sir Manuel Hornibrook, the park is often known as the Teneriffe Riverwalk, this park is the long linear park located riverside from Commercial Road and south along the river to Catalina Park.
Recently we repaired all the fencing along the river with new safer rail inserts, and last year we re-painted the light poles – now it's time for a further refresh.
We would like to create a better walking and cycling experience by smoothing out much of the concrete and then fully refresh the gardens by –
Refurbishing and formalising the existing planting beds with low, water wise, colourful subtropical planting
Place new edging to existing and new garden beds and flagstone at the base of the existing boulder walls to create defined edges to the turfed areas
Replacing 5 non-performing trees with 7 better suited tree species
Replace non-performing turf with a more resilient turf variety, and
Creating garden beds around many fig tree roots to prevent damage from mowers.
Send me your thoughts about the design by Friday 3rd December so I can prioritise funding for 2022.
I will continue to ensure our park infrastructure is fit-for-purpose for you, your friends, and your visitors to our marvellous area.
There's more information about the design intent, perspective imagery of the garden beds, and list of the various species of plants below.
We have just worked with Teneriffe Lions Club on a garden bed refresh further along the River walk at Merthyr Road – we're always looking to improve out local environment – more into at www.vickihoward.com/carbonneutral