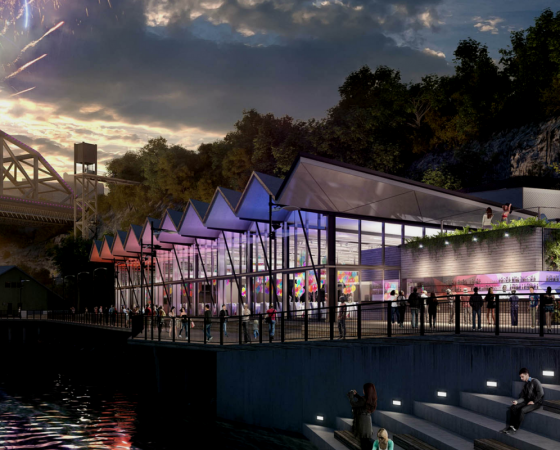 The Howard Smith Wharves redevelopment is transforming an underutilised site to create a new Brisbane landmark.
The 3.43 hectare site will be transformed into a riverside precinct with more than 2.7 hectares of public open space, a 164 room hotel, an exhibition centre and restaurants and cafes. It will connect the New Farm Riverwalk and the CBD, revitalise Petrie Bight and respect the heritage of the site.
Following an extensive evaluation process, Council announced in 2014 the HSW Nominees, led by Adam Flaskas and Elisha Bickle were selected as the preferred candidate to develop the site.
In December 2015, the development application for the design was approved. A notice of appeal was lodged but HSW Nominees engaged with the appellant to resolve their concerns. Since then significant design has taken place and construction is now expected to start in 2017. Construction is anticipated to be completed in 2020.
The HSW Nominees will have overall responsibility for the entire site and is responsible for the design and construction of the park and open space areas, while the hotel development and operation will be undertaken by Asian Pacific Group – a company owned by the Deague Group.
Key features
The open space will be the venue for a range of public events.
The buildings will be low scale, below the height of the cliffs and with lower building density than allowable under Brisbane City Council's code.
Cycle connections will be maintained during construction and a dedicated cycle track through the precinct is being constructed.