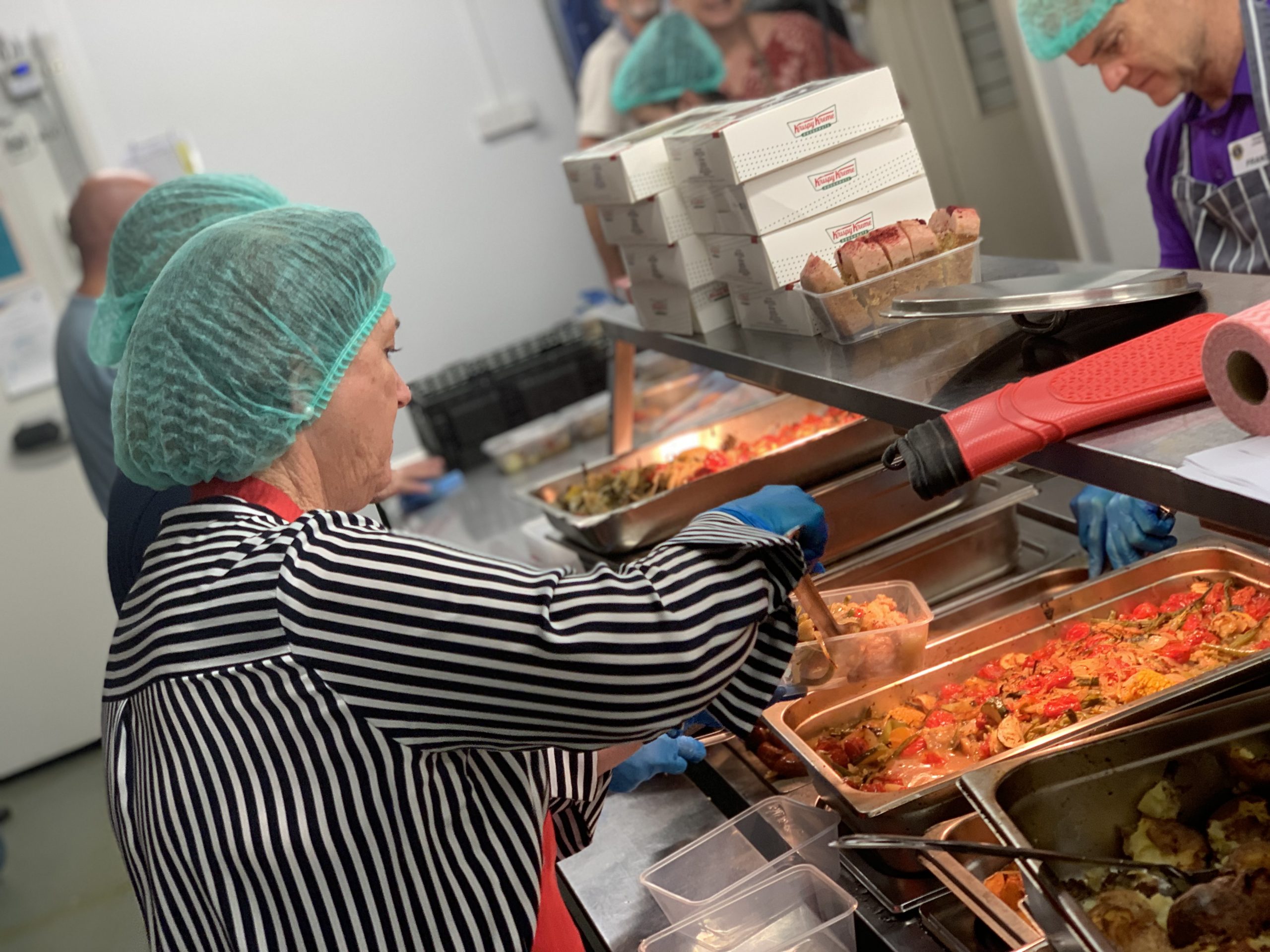 The Lord Mayor's Charitable Trust's first grant round of 2023 has awarded more than $159,000 to 21 charities through the March General Grant Round.
Lord Mayor Adrian Schrinner said this year's applications highlighted the serious impacts of the housing and cost-of-living crisis, with more than half of grants awarded to charities supporting victims of homelessness, family and domestic violence and those living in poverty.
"We're seeing huge rent increases across Brisbane and spikes in the cost of groceries, petrol and utilities," Cr Schrinner said.
"These rising costs are particularly tough on those vulnerable people in our community.
"No one should be left wondering where their next meal is coming from or whether they will have a safe place to sleep at night.
"Brisbane is a city that cares, and today's grants will support the most vulnerable people in our community."
Lady Mayoress Nina Schrinner, who chairs the Lord Mayor's Charitable Trust, said today's grants would make a difference to people in all stages of life.
"Brisbane's charities are working tirelessly to help those in need, but sadly the cost of living crisis means the demand is higher than ever before," Mrs Schrinner said.
"There's a broad spectrum of need across the community and this grant round will help a range of causes, from essential baby items to support for families fleeing domestic violence."
Dan Marshall, Co-Founder of Dig In said the funding would support an innovative trial to provide more than 1500 meals to people living on the breadline.
"We work with a wide range of people across Brisbane, and we understand not all people experiencing hardship feel comfortable receiving assistance from traditional food services," Mr Marshall said.
"The grant from the Lord Mayor's Charitable Trust allows us to roll out a hot vending machine with 24-hour-a-day access to help bridge this gap and make sure no one goes hungry."
Carly Fradgley from Baby Give Back said the grant would provide new mums with the essential items for the new bundle of joy.
"No mother should have to worry about providing essentials for their child. Whether it's nappies, formula, prams, cots or car seats, we're committed to setting new mums up for success," Mrs Fradgley said.
The Lord Mayor's Charitable Trust has supported local, grassroots charities since the 1950s. For more information about Lord Mayor's Charitable Trust, visit www.lmct.org.au.
2023 MARCH GENERAL GRANT RECEIPIENTS
At the Ark Inc **NEW**
At the Ark Inc assist families and individuals dealing with all aspects of sexual domestic and family abuse by offering a range of services from counselling, pastoral care and general support; to trauma recovery courses, prevention and education.
Many of At the Ark's referrals come the Family Courts in Brisbane with an increase of first-time clients by 65%. With this grant, At the Ark will be able to continue expanding and offering their counselling services to many families in desperate need.
Baby Give Back
Baby Give back is a charity that provides essential items for baby and children of families who are disadvantaged.
Baby Give Back will be using their grant funds to purchase some of their much-needed bigger items that they have a shortage of such as prams, cots, and car seats.
BestLife Inc
BestLife provides Brisbane's only planned and supported pathway to a more independent life for young people living with disability.
The funds from this grant round will go toward much needed materials that assist BestLife Inc with their 'Get to Know You' morning sessions, sleepovers, HouseMates and their newest program – 24/7 Supported Independent Living.
Brisbane Housing Company
BHC is an independent not-for-profit charity that supplies affordable rental accommodation for households across QLD.
The funds provided in this grant round will allow BHC to provide 40 of their new tenants a 'Set up for success, cleaning and wellness' packs – full of much needed household essentials that many vulnerable tenants may not always be able to assess when first moving.
Dig In Inc
Dig In is a not-for-profit charitable organisation whose mission is to address meal insecurity by serving over 80,000 hot nutritious meals with their weekly meal services.
Dig in will be starting a 24/7 accessible hot vending machine that allows 1 x free meal a day per person, to access as they please. Not all people experiencing hardship feel comfortable to receive assistance from a traditional food service, this aims to bridge that gap.
Epilepsy Action Australia
Epilepsy Action Australia (EAA) is Australia's largest epilepsy support organisation that provides specialist services such as their service called 'Elevate'
This service gives individuals living with epilepsy personalised service plans and assessments, tailored to suit that person's condition. This grant will allow up to 13 Brisbane residents to benefit.
FareShare Australia Inc
FareShare is a volunteer-powered charity on a mission. They rescue waste and transform it into free nutritious meals for those in need.
With this grant FareShare will be able to purchase 6 burner stoves and grills as well as much needed trays to be able to increase efficiency with meal prep.
Friends with Dignity
Friends with Dignity assist those affected by domestic violence with a range of programs and resources as well as scholarships.
This grant will allow FareShare to assist 120 children through their 'Little Friends' scholarships that help with all things schooling. This support ranges from school fees and uniforms to school activities that otherwise they would not be able to partake in.
Hepatitis Queensland Inc
Hepatitis QLD is a community-based charity that has been operating for over 27 years. They address the stigma, raise awareness and improve the lives of those who are affected by hepatitis.
These funds will cover the costs of 2 Community Correction clinics – allowing Hepatitis QLD to treat a number of people within these facilities and assisting to stop the spread.
Little Star Kids
Little Star Kids provide a program called 'Our Little Star Learners Program' that assists children who have experienced abuse and neglect and are living in foster care, with one-on-one academic tutoring and support.
This grant will allow an additional 3 children to be able to join this program and receive this support.
Lymphoma Australia Limited **NEW**
Lymphoma Australia provides qualified care nurses to support those who have been diagnosed with Lymphoma and support them as they navigate their journey. With this grant, Lymphoma Australia will be able to ease the worrisome burden of their diagnosis with their 'Diagnosis Packs' full of carefully thought-out items that are suited to those who are about to start their chemotherapy journey.
Open Hands Community Care
Open Hands aims to transform the wellbeing and quality of life within their community, one life at a time by providing emergency food relief hampers and household items.
Opens Hands will be able to distribute 100 Crisis support emergency packs to those in need, with the funds distributed from this grant round.
RizeUp Limited
RizUp is a community driven organisation committed to providing support to families affected by family and domestic violence.
RizeUp are using this grant assist those who are transitioning out of DV affected homes with their 'RizeUp home' packs that include, a single bed, mattress, linen and home goods.
Rosies Youth Mission Inc
Rosies are a street outreach program that offers friendship, acceptance and support for those experiencing homelessness.
Rosies volunteers are seeing a tremendous increase of vulnerable people requiring assistance, their mental wellbeing affected and unfortunately, substance abuse increases in the community. To ensure that all the volunteers can continue their fantastic community work, they will be partaking in a range of courses that will enhance their knowledge and safety when dealing with difficult circumstances.
Strong Women Talking – Marigurim Mubi Yangu Aboriginal & Torres Strait Islanders Corp**NEW**
Strong Women Talking is a First Nations Women's organisation that deliver culturally appropriate prevention focused workshops and programs to women and children within their communities affected by family and domestic violence.
With this grant, Strong Women Talking will be able to assist First Nations women and children impacted by domestic and family violence with emergency relief such as food, vouchers, transport, anything basic and immediate needs.
The Legacy Club of Brisbane
Legacy Brisbane is dedicated to supporting the families of deceased and incapacitated veterans who are impacted with their loss through a range of innovative and practical programs.
With the grant funds provided by LMCT, the Legacy Club will hold a 'Centernary High Tea' event to acknowledge their widowed members sacrifice & show support to those with lost ones who served our country.
The Pyjama Foundation
Pyjama Foundation provide children in care with a range of support and learning programs.
One of these programs in their Pyjama Angel mentors program that matches 'angels' with a young person to meet weekly to help them with a range of activities and learning whilst offering support for the child. This grant will allow Pyjama Foundation to train up 10 x more angels who will then be able to assist the ever-growing waiting list.
The Yoga Partnership Ltd
The Yoga Partnership was founded to take the benefits of yoga and mindfulness to marginalised or specialist groups who need it most.
With this funding, they will be running 'Pink Ladies' yoga classes that have been tailored to suit those affected by cancer in some way.
UQ Health Care Limited
UQ Health Care provide general practice services at drop-in centres for adults experiencing homelessness.
UQ are using their grant to purchase much needed equipment for these pop-up clinics such as a lockable cabinet, medical refrigerator and BP monitors.
Variety Queensland Inc
Variety's mission is to empower children who are sick, disadvantaged or have a disability through diverse programs, experiences and scholarships.
Variety are holding one of their Braille Music Camps and are using their grant funds to ensure that all participating children will have the best experience at no cost to the families.
Wesley Mission QLD
Wesley Mission is an innovative and responsive not-for-profit community service provider who work to build stronger and more inclusive communities.
Wesley Mission will be purchasing a commercial potato peeler and food processor to enhance the efficiency and productivity of their 3 meal services they run weekly.