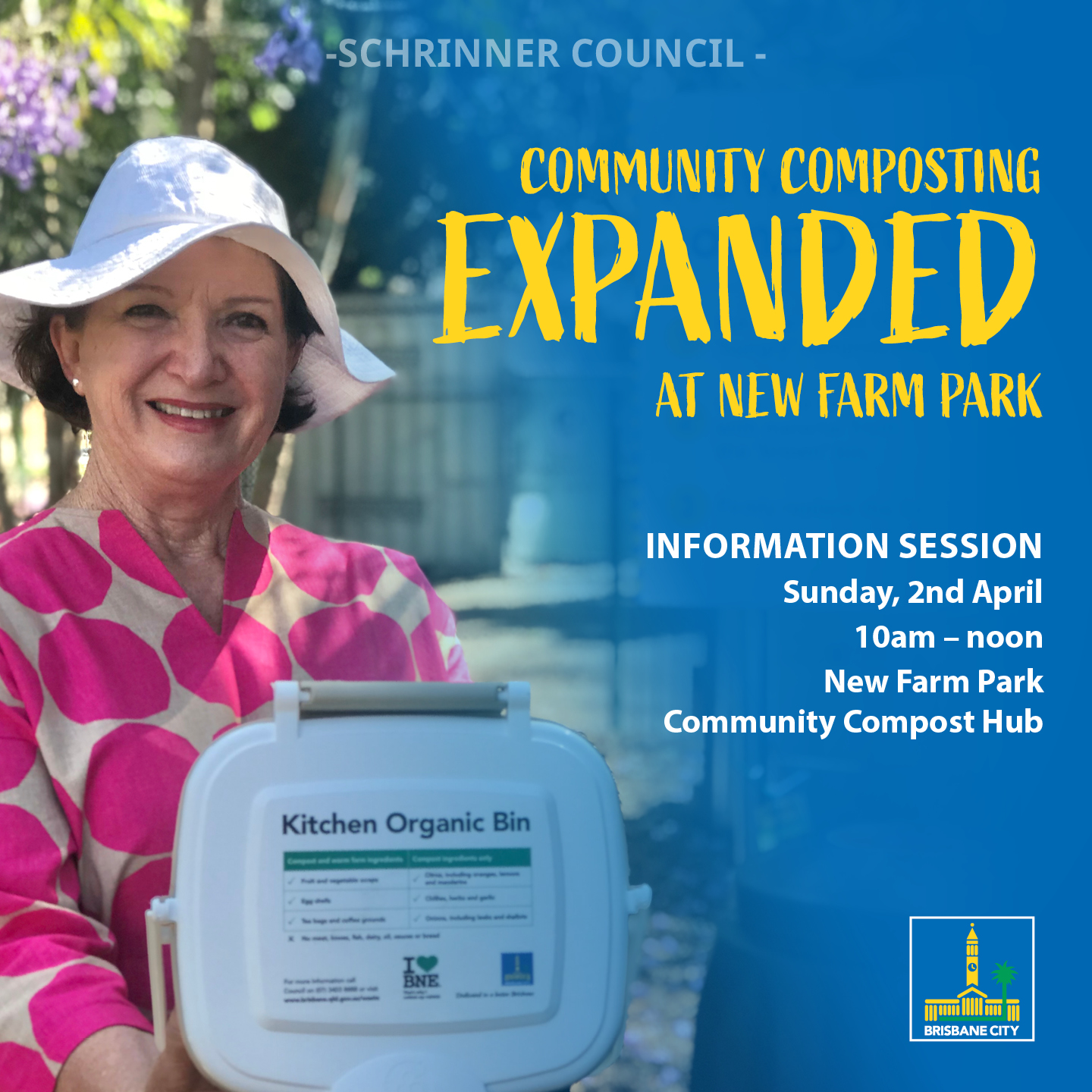 Council is turning coffee grounds and eggshells into community compost as part of a new food organics collection system trial at the popular New Farm Community Composting Hub.
Residents will be invited to dispose of household food scraps at the Community Composting Hub in New Farm Park, which will then be turned into nutritious soil for public green spaces.
Brisbane Civic Cabinet Chair for Community, Arts and Nighttime Economy and Councillor for Central Ward Vicki Howard said the trial will build on the success of the existing program and aims to establish a food organics collection system as a way to support a built-up community such as New Farm.
"With food waste making up around a quarter of the average general waste bin, the community composting hubs work together with Council's compost rebate program to help residents divert waste from landfill," Cr Howard said
"The New Farm community is home to some of our most engages participants of the Community Composting Hub program, highlighting their commitment to keeping their community clean and green.
"The hub's central location in New Farm Park made it the perfect candidate to be a food waste drop-off point for the area.
"The existing onsite composting infrastructure will be replaced with a series of bins inside enclosures.
"These enclosures have been constructed from second-hand public bins by Council's Social Enterprise partner, HELP Enterprises, and will incorporate clear signage for a seamless drop off experience.
"The collected food waste will then be turned into compost and delivered back to gardens across the city to keep them healthy and flourishing."
The New Farm Community Composting Hub is Brisbane's most popular in the program, with more than 1200 households registered to use it and an estimated 3.5 tonnes of food scraps being dropped off there every month.
Cr Howard said Council will be hosting an event to relaunch the hub, showcasing the new facility, and explaining to residents how to use the hub.
"From 10am-12pm on Sunday 2 April, Council staff will be available to answer questions and show residents how to use the new hub, as well as how to compost at home and reduce food waste" Cr Howard said.
"I would also encourage residents to take up Council's compost rebate and join more than 11,500 households who have received up to $70 off their composting equipment set up.
"Residents can start their composting journey at home today and check out their local Community Composting Hub for ways to improve the Brisbane of tomorrow."
For more information on how we're delivering a better environment just visit www.vickihoward.com/carbonneutral