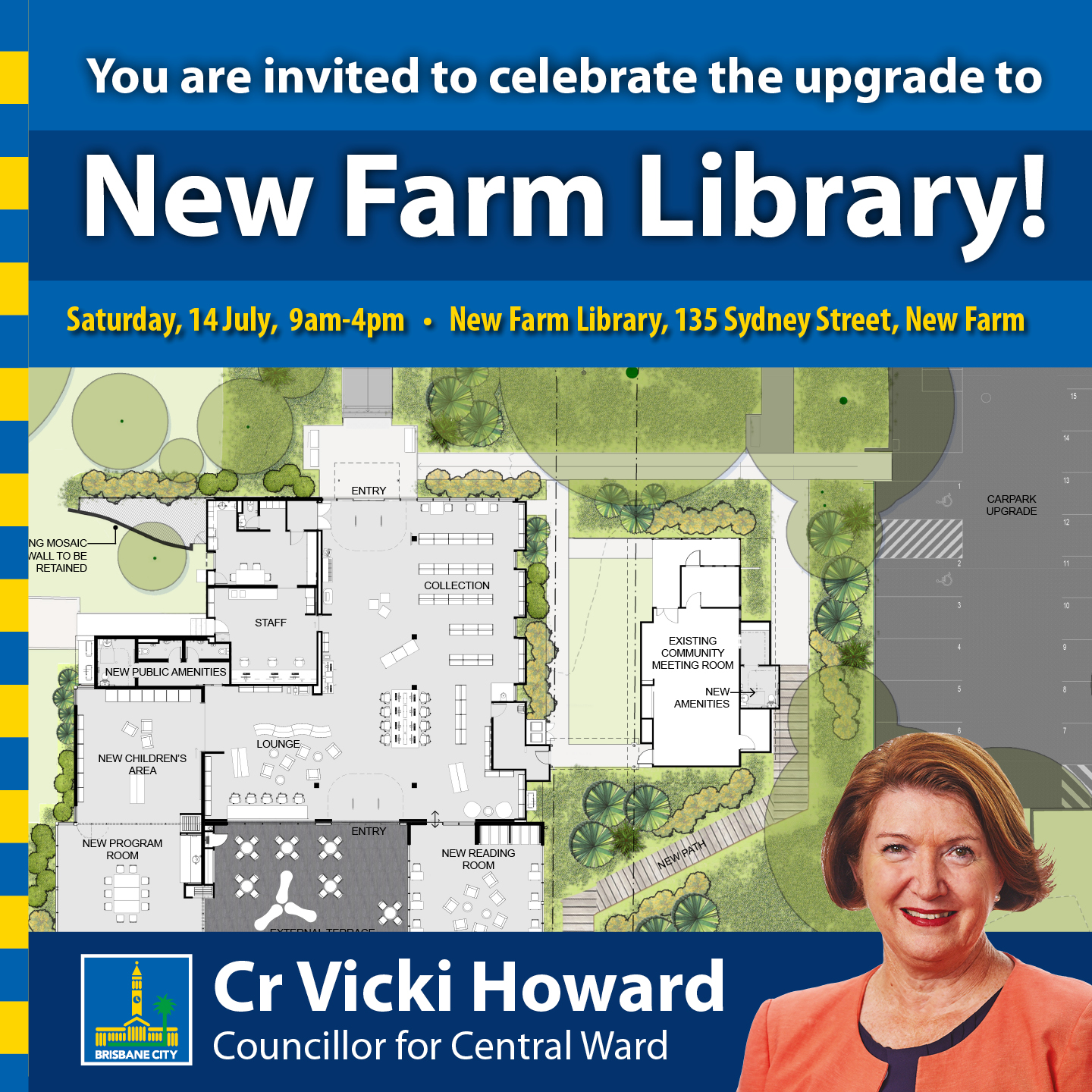 New Farm Library is set to reopen on Saturday July 14, following a $2.5 million transformation to deliver a new outdoor terrace, children's space, and a reading area overlooking the iconic New Farm Park.
The New Farm Library had been operating for 43 years and Council's upgrade will make it even more accessible for people of all ages and abilities to read, work and play.
"The New Farm Library was Brisbane's 22nd municipal library and first opened in 1975 where it currently sits beside New Farm Park," Cr Vicki Howard said.
"Since then, libraries have become more than just places to read or borrow books, they have become integral to our smart-thinking, easy-living New World City, providing opportunities for learning, reading and cultural activities.
"New Farm Library is now visited by more than 116,000 people every year and this upgrade is the library's first major makeover in more than 20 years and will see it nearly double in size.
"This upgrade will also deliver an exciting new children's area, the addition of a dedicated events space, a quiet reading room and an outdoor terrace to ensure residents can continue to enjoy this fantastic facility for many years to come."
We will open the library with a community celebration on Saturday July 14.
"To mark the completion of the New Farm Library's transformation, we are inviting the community to come down and see the new facility and vibrant new areas for themselves," said Vicki.
"The celebration will be held from 9am to 4pm on Saturday July 14 with fun and free activities for the whole family including a live children's performance by The Moo Crew with Blue Gum Farm TV, a seedling potting station, technology tinker table, a fermented food workshop and children's storytime session.
"I am committed to delivering new and exciting lifestyle opportunities for residents within our Council libraries by ensuring our facilities are vibrant, community hubs catering to a range of interests.
"I thank the community for their patience while Council completed the finishing touches of the New Farm Library upgrade, and look forward to seeing even more people enjoying the world-class facility from next week."
For more information on the New Farm Library upgrade and the community open day, visit www.brisbane.qld.gov.au or call Council on (07) 3403 8888 and you can visit https://www.brisbane.qld.gov.au/facilities-recreation/libraries/events/search?section=library&query=new%20farm%20library%20official%20opening, for the event program for the opening celebrations.