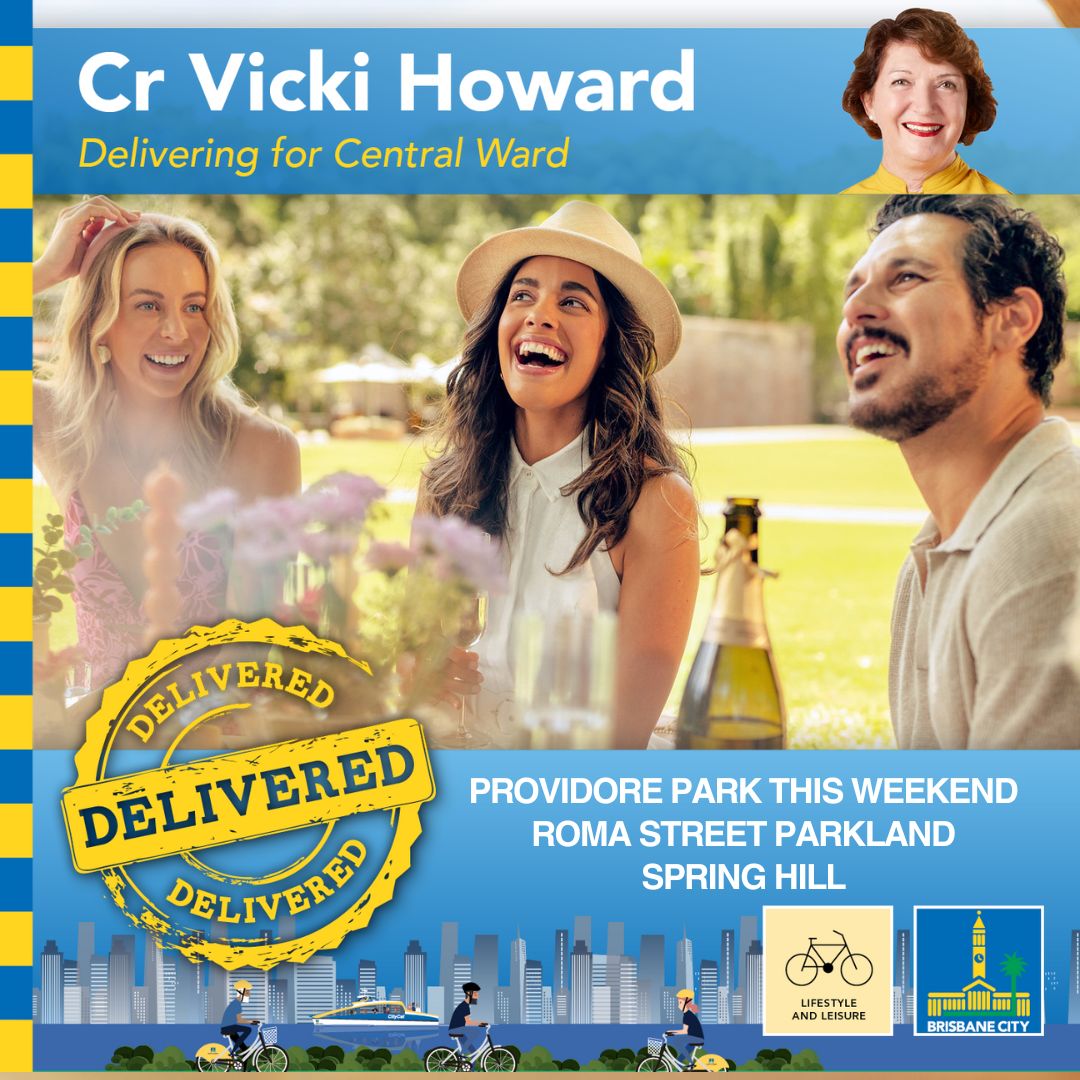 SAMPLE TASTY EATS, TOP DROPS, DJ BEATS AND GOOD TIMES AT NEW PROVIDORE PARK FOODIE FEST
Feast, frolic and have fun at Providore Park, Brisbane's newest gourmet food and drink event, highlighting makers and creators for an alfresco weekend of wining and dining blended with live music and curated activations at the lush Roma Street Parkland from 8 to 9 July 2023.
A cornucopia of culinary fare is available at the two-day event along with FREE entry (make sure you book though) and ticketed experiences, offering the ideal opportunity to gather with friends and family to relish Brisbane's enviable winter weather in picnic-perfect surrounds.
Sample, swirl, dollop and slurp everything from craft brews and artisan drinks to freshly shucked oysters and gourmet cheeses for an exceptional weekend of good times, great wining and dining and a garden party ambience.
Wander through The Village market stalls and meet the producers at Goose on the Loose, Hum Honey, Lisboa Caffe, Margarita Margarita, Silver Tongue Foods, Nodo, Church Mouse Cheese, Gelato a Go-Go and Yarra Valley Caviar.
Sample and stock up on gourmet goodies from cheese, chocolate, pastries, deli goods, pantry favourites and fresh seafood and produce through to wine, spirits, craft beer and non-alcoholic beverages.
Enjoy the array of tempting treats for a picnic in the park while soaking up live music from local acts on Celebration Lawn to upbeat tracks at the DJ Lounge.
Enhance your gourmet day out at Providore Park with an elevated epicurean experience such as wine-pairing masterclasses, private picnic soirees, pop-up croquet and VIP lounge access.
Book a Masterclass at The Conservatory from $30 per person for an expert guided exploration into food and wine matching with a smorgasbord of small bites and complementary drops.
Level up your picnic game at Picnic Society, book a stylish cabana for up to four people for $120 (add $30 each for up to eight people) that offers a private outdoor dining experience complete with a picnic platter and a selection of Chandon drinks.
For the ultimate Providore Park VIP experience, the exclusive Chandon Secret Garden is an adults-only oasis featuring a private lounge with laid back seating, drinks, a tasting platter and gift bag on arrival, plus a private bar serving some of the finest Australian made sparkling, wine, beer and custom cocktails for $85 per person.
Complementing the weekend's feastings, the Croquet Club pop-up presents the chance to sip and swing with a glass of Minuty Rosé for $60 per group for up to six players.
Lord Mayor Adrian Schrinner said Providore Park is a welcome addition to Brisbane's annual event calendar with all the ingredients for a fantastic weekend of eating, drinking and live entertainment.
"Providore Park will transform Roma Street Parkland into a gourmet hub, bringing family and friends together to enjoy amazing food and drink and support local growers and makers in a family-friendly, community atmosphere," Cr Schrinner said.
"Entry is free and residents are encouraged to make a day of it and soak up the winter sunshine in Roma Street Parkland while enjoying some fantastic food and live music."
Located in the heart of Brisbane City at Spring Hill with 16 hectares of manicured gardens, sprawling lawns and tropical plants, Roma Street Parkland is the perfect backdrop for the new Providore Park event.
Providore Park is sponsored by Chandon, Fever-Tree, Valiant Hire and W Brisbane and is produced by Roma Street Parkland and Brisbane City Council.
Full program and details will be released soon at providorepark.com.au
Details
Providore Park | Roma Street Parkland | Saturday 8 & Sunday 9 July 2023 from 10am–6pm
The Village
Open daily from 10am to 6pm with free entry, The Village is Providore Park's gourmet hub, a food lover's paradise of artisan food, drinks and treats where you can meet the producers and sample and stock up on an array of gourmet goodies from market stalls.
Main Stage
Kick back with a picnic and enjoy live music on the Providore Park Main Stage, featuring a local lineup of musicians and artists performing everything from classic pop and rock to smooth jazz and swing from 10am to 6pm daily on Celebration Lawn.
DJ Lounge
Chill out to the retro beats and sunny sounds of house, electronic and pop with local mixmasters spinning tracks and a pop-up bar serving drinks at the DJ Lounge at Lakeside Meadow from 10am to 6pm daily.
Chandon Secret Garden
Settle into Providore Park's exclusive VIP Lounge, Chandon Secret Garden. With stunning views; private lounge with plush seating; VIP amenities, including a Chandon bar with craft beer, wines and bespoke cocktails; and a welcome tote bag, cheeseboard and drinks. Enjoy an unrivalled experience and all-day access from $85pp.
Picnic Society
Secure a prime spot at Providore Park's beautifully styled Picnic Society and enjoy a Chandon Garden Spritz on arrival while grazing on a picnic platter and sipping a selection of Chandon wines as part of your private picnic set-up. Bookings are 90 minutes at $120 for groups up to four or up to eight for an extra $30pp.
Masterclass at The Conservatory
Let the experts guide you through the art of food and drink matching in a masterclass at The Conservatory. These small-group sessions are from $30pp. Sample a tempting trio of delectable snacks, each paired with the perfect drop.
Croquet Club
Partake in a leisurely game of croquet at Providore Park's pop-up Croquet Club. Hire the entire lawn court for $60 to enjoy croquet and rosé-all-day session with Minuty Rosé. Court hire is for 30 minutes and can accommodate up to six players, so assemble your squad and swing away!
Bookings and more information is available at providorepark.com.au