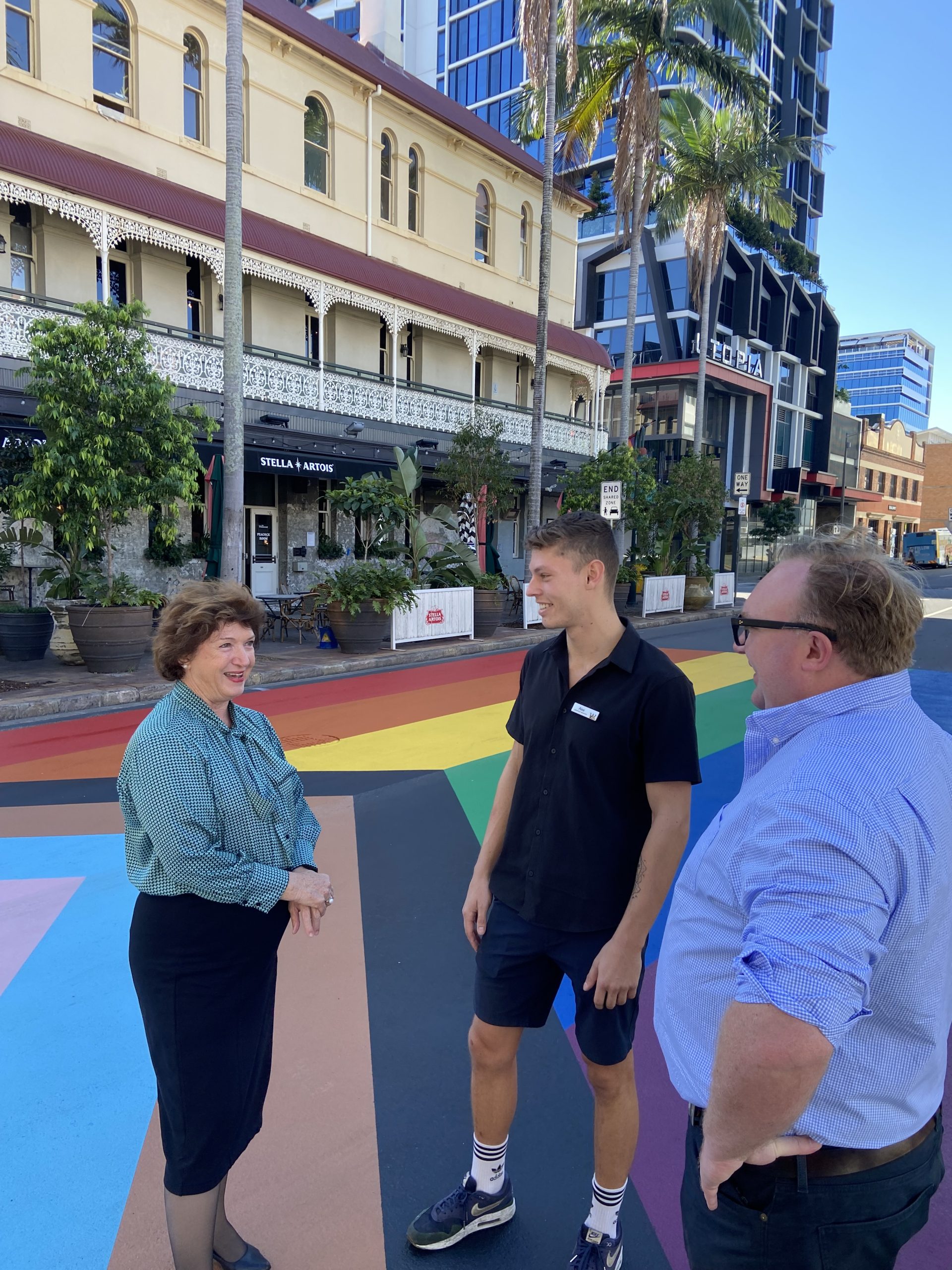 "A gift from the Council to anyone that embraces diversity," said Cr Vicki Howard about her new rainbow road treatment outside the iconic Wickham Hotel.
"The LGBTIQ+ community makes a huge contribution to our city," Cr Howard said.
"The makeover of Alden Street reflects the colours of the LGBTQ+ Pride flag and our solidarity with the LGBTQ+ community in Central Ward.
"Central Ward is one of the most diverse places in this State and I love representing every single person in City Hall."
The rainbow treatment forms part of a formal speed limit review (SLR) of Alden Street in Fortitude Valley which was undertaken due to the high number of pedestrians that use this crossing.
This part of Alden Street will now be a 10km/hr 'Shared Zone'
"The new rainbow crossing is a symbolic statement of our support for the LGBTIQ+ community," Cr Howard said.
"I know this beautiful gesture will bring a smile to everyone who walks across it."
The Schrinner Council is proud of Brisbane's rich LGBTQ+ history and culture and I have been delighted to spearhead inclusivity since 2012.
More information at www.vickihoward.com/DiverseVibrantCentralWard
We delivered the rainbow footpath in Spring Hill in 2016 outside the Sportsman Hotel
We delivered the rainbow City Glider in 2015 in celebration of the Brisbane Pride Festival.
We started the MELT Queer Arts Festival at Brisbane City Council's Powerhouse
In 2016, Council became the first local government in Queensland to publicly support the legalisation of marriage between consenting adults regardless of gender, sexuality or gender identity.
We were the first administration to raise the rainbow flag and illuminating Brisbane City Hall to mark the International Day Against Homophobia, Transphobia and Biphobia Day (IDAHOT Day)
We were the first administration to illuminate the Story Bridge in support of international days of significance such as LGBTIQ+ Day, World Aids Day, Transgender Day of Remembrance and Intersex Awareness Day
In 2017, the administration we lead was the first local government in Australia to be listed on Australia's LGBTI Inclusive Employers website.
In 2018 the administration we lead was the first local government in Australia to be recognised with Gold Employer status at the Australian Lesbian, Gay, Bisexual, Transgender, Intersex (LGBTI) Inclusion Awards, again recognised at the 2019 awards.
For the past 9 years Brisbane Queens Ball at City Hall has been supported to the tune of $188 000 – meaning more funds can be raised for their chosen charities.