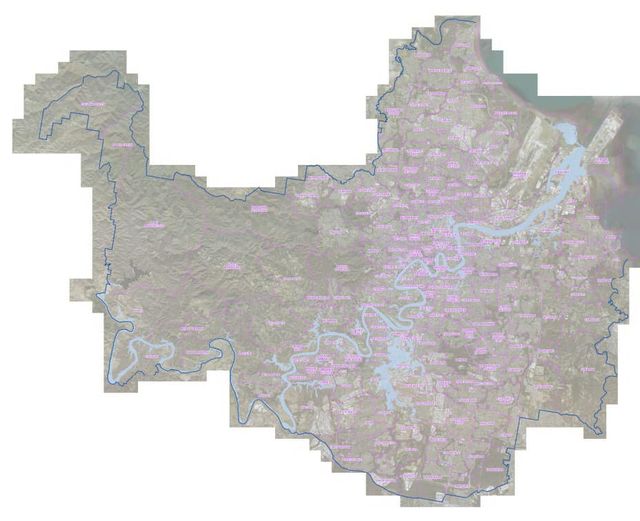 As you are probably aware, widespread rainfall across the Brisbane Local Government Area is still continuing and as of this afternoon, over the last 24 hours, an average rainfall total of 253mm fell across the Brisbane area.
Based on the latest advice from the Bureau of Meteorology, Brisbane is forecast to receive further rainfall today, but the rain is expected to ease from this evening.
As a result, continued flash flooding and creek flooding is expected considering our saturated catchments.
The Brisbane River peaked at 3.04m AHD at Brisbane City Gauge this morning (coinciding with the high tide; 08:05 am).
A similar magnitude flood level peak is expected tomorrow morning at around the high tide (approximately 09:00 am at City Gauge).
UPDATED FLOOD MAPPING of 3.04 AHD can be found at this link – https://www.brisbane.qld.gov.au/sites/default/files/documents/2022-02/20220227-brisbane-river-flood-forecast.pdf
As advised yesterday, if you live in an area highlighted in blue on that map, please make sure you're prepared. Stock up on sandbags, ensure your household has essentials and know when it's time to leave.
You can also view your property's individual flood risk at https://www.brisbane.qld.gov.au/community-and-safety/community-safety/disasters-and-emergencies/be-prepared/flooding-in-brisbane/flood-awareness-map
Please note that Seqwater started releases from Wivenhoe Dam from 4 am this morning. Their releases will take some time to travel downstream, so are not expected to coincide with the peak from the Bremer River and Lockyer Creek flooding.
Backflow prevention devices are engaged and operated with regard to rainfall intensity and tide times.
Rainfall
Rainfall totals across Brisbane generally between 200mm and 300mm over the past 24 hours:
Heaviest falls of 468mm occurred at Jude Street Reservoir, Bracken Ridge gauge over the past 24 hours.
Heaviest falls of 213mm occurred at Jude Street Reservoir, Bracken Ridge gauge over the past 6 hours.
Heaviest falls of 124mm occurred at Jude Street Reservoir, Bracken Ridge gauge and Pinnaroo Cemetery, Bridgeman Downs over the past 3 hours.
Conserve Water
We've been contacted by Urban Utilities requesting that all Brisbane residents, as well as those in Logan, Ipswich, Moreton Bay and the Lockyer Valley conserve water.
This extreme weather and heavy rain has impacted the Mt Crosby and North Pine Water Treatment Plants which both went offline in the early hours of this morning. This is as a result of extreme rainfall and flooding washing soil and debris into the creeks and waterways, which flow into the creeks and waterways, which flow into the treatment plants.
Seqwater crews have been working hard to get the Treatment Plants back online since early this morning and have been able to return North Pine.
Any savings on water use over the next couple of days will greatly assist in managing water supply.
Sandbag update
Sandbag production is operating 24 hours to restock at all locations. However Currently Newmarket is closed due to localised flooding.
Darra – South Depot, 38 Shamrock Road
Morningside – Balmoral Depot, 9 Redfern Street
Zillmere-North Depot, 33 Jennings Street.
Newmarket – SES Depot, 66 Wilston Road (currently closed due to localised flooding)
Evacuation Centres
Our Northside evacuation centre opened at 2pm today.
Kedron-Wavell Services Club in Chermside is available for displaced residents from 2pm, in addition to the evacuation centre at the Sleeman Sports Complex in Chandler.
Mud Army 2.0 preparations underway
Now isn't the time to start cleaning up, however, together with Lord Mayor Schrinner, we're making plans to gear up once the rain subsides and it's safe to do so.
We'll share details soon on how you can register to help with Brisbane's recovery effort.
Call 000 if your life is in danger
Call the SES on 132 500 for any life-threatening emergencies
Contact Council's 24/7 hotline on 3403 8888
Stay safe everyone and watch my Facebook page for updates I receive from authorities.