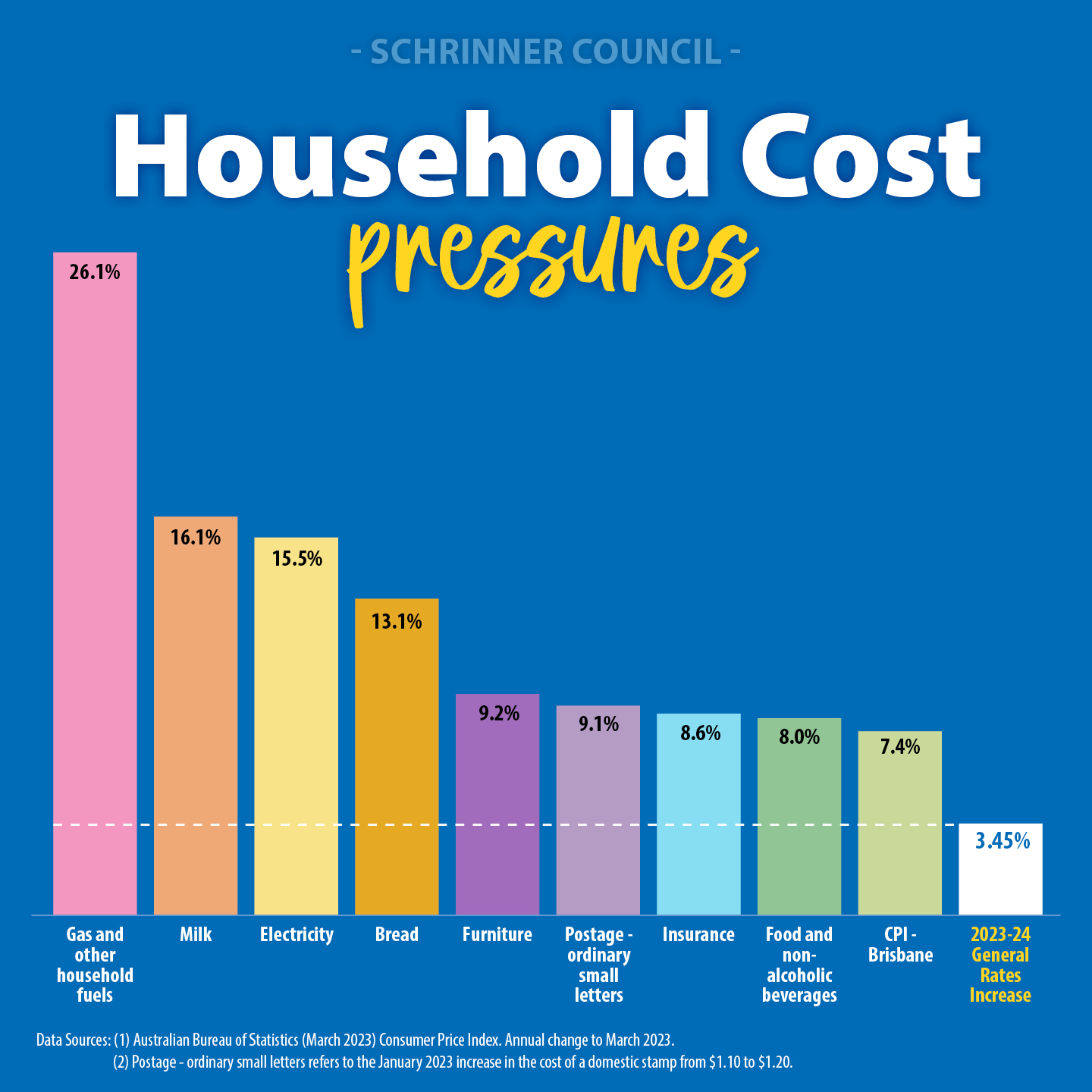 Brisbane residents continue to pay less and get more than other councils
Brisbane general rates for owner occupiers will increase by just 3.45 per cent on average – less than half the city's current rate of inflation.
Lord Mayor Adrian Schrinner said the increase of around $1.50-a-week is far lower than the spiralling cost of other everyday items.
"Brisbane already has the cheapest rates in south east Queensland," he said.
"Our Budget guarantees that continues before most other councils have even handed down their budgets.
"Rapidly rising costs of basic items like milk, food and electricity are having a big impact on household budgets.
"Our Council team made keeping rates low the number one priority in this Budget and we've achieved that with a rise that is less than half Brisbane's inflation rate.
"It's also in line with the increase in State Government fees and charges announced in March."
Brisbane's lowest residential rate will be $847.12 in 2023-24.
After a 6.5 per cent general rate rise, the Gold Coast's lowest residential rate will increase to $1223.97 in 2023-24. This is $376.85 more than Brisbane.
Under the Schrinner Council's $80 million commitment to keeping living costs down, the 3.45 per cent increase in general rates for Brisbane owner occupiers compares to:
➢ 7.4 per cent current Brisbane inflation
➢ 16 per cent increase in milk
➢ 13 per cent increase in bread
➢ 8 per cent increase in insurance
➢ 8 per cent increase in food
➢ 26 per cent increase in gas and other fuels
➢ 15.5 per cent increase in electricity
Cr Schrinner said the Budget still delivered a record $3.8 billion four-year infrastructure program that would keep Brisbane moving, maintain the city's clean and green reputation and invest in the future.
"In the past few years, Brisbane has been through a global pandemic, a flood and now a housing and inflation crisis," he said.
"Years of sensible financial management means we have been able to weather these storms while still delivering a low rate rise, record investment in footpaths, regular road resurfacing and lower than-forecast debt.
"The alternative is a destructive Green/Labor alliance that will cost every Brisbane household dearly.
"Labor's record of four above 6 per cent rate rises includes a massive 6.55 per cent hike that was 21 times the rate of inflation. Appalling."
Cr Schrinner said almost $44 million in discounts and rebates would be handed back to ratepayers.
"Over 262,000 owner-occupier ratepayers – or about four out of five – are expected to benefit from our $60 on-time payment discount," he said.
"More than 39,000 pensioners will receive our pension rebate, the most generous pensioner rebate scheme in Queensland.
"These are increasingly important measures given the rising living costs impacting households."