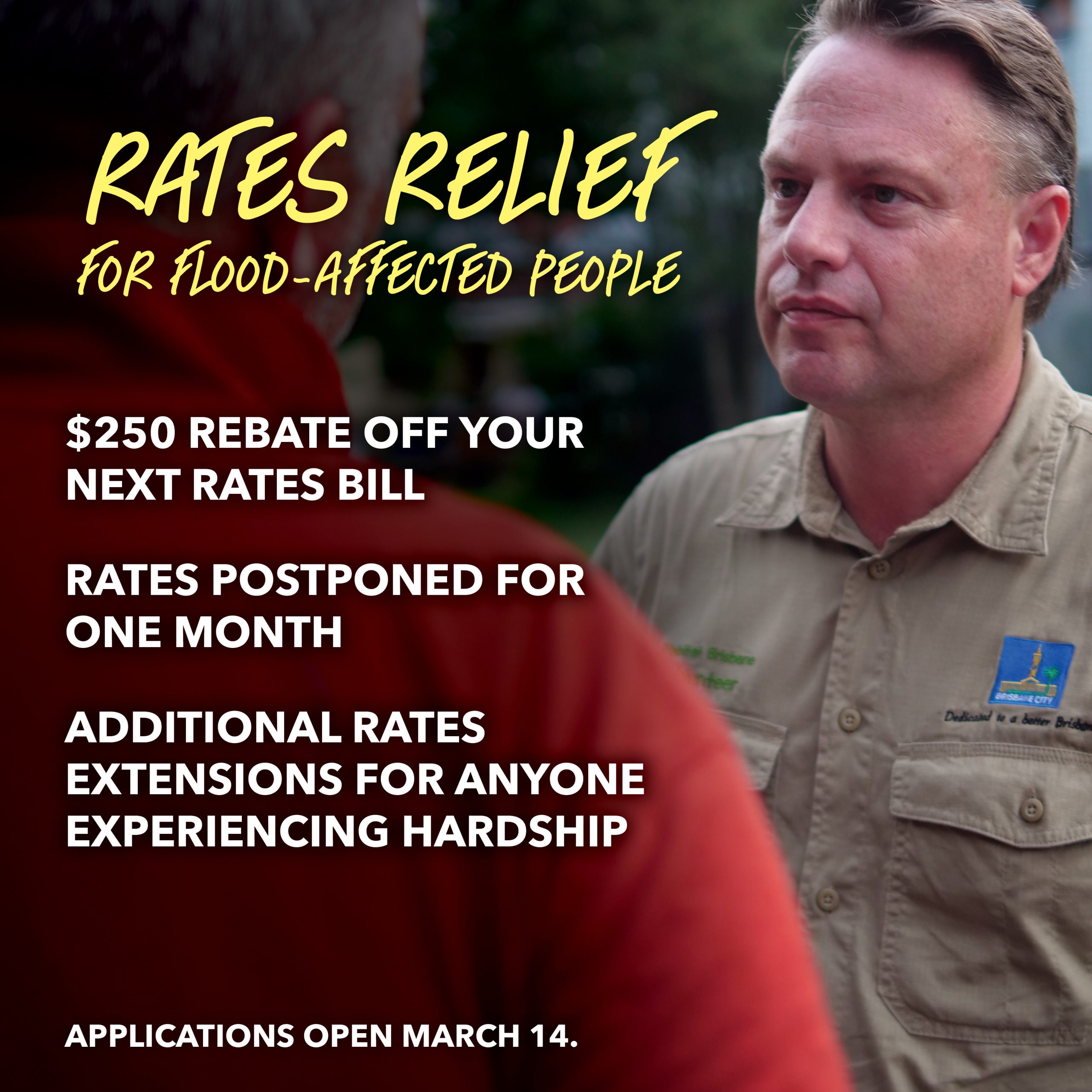 Thousands of Brisbane flood victims will receive a $250 rebate off their next rates bill as part of a recovery package unveiled today by Lord Mayor Adrian Schrinner.
Cr Schrinner said while the clean-up from one of Brisbane's worst-ever floods is well under way, the emotional and financial toll on many residents and business owners will continue.
"The flood waters may have receded but the pain from what Brisbane has experienced for the second time in just over a decade is going to linger," he said.
"That's why the Council I lead is determined to play a part in helping to relieve the pressure on households and businesses at this difficult time.
"The Mud Army 2.0 demonstrated what Brisbane can achieve when we all work together and our relief package is also a thank you to residents for supporting each other."
Under the assistance package, households and businesses impacted by the floods will be eligible for a $250 rebate on their next rates.
Applications for the rebate will open from 14 March.
"Our rates rebate is expected to benefit up to 28,000 residents and business owners that were inundated during the floods," Cr Schrinner said.
"If your property was flooded in any way, you will be eligible for our rebate."
Cr Schrinner announced every residential rates notice across Brisbane for the April quarter will also be postponed a month, ensuring bills don't arrive until at least the end of next month.
"Delaying the rates notices by a month means people affected by the flood will have time to get approval for a rebate before their next bill arrives," Cr Schrinner said.
"Postponing the rates notices of 488,000 properties across Brisbane will also mean residents and businesses will have a bit of extra money in their pockets for a month.
"Hopefully, some people will be able to use that bit of extra money in their pockets to shop at some of the flood-affected businesses that have been able to reopen their doors."
Commercial operators that were impacted by the flood who have received their rates notices already will receive a rebate on their subsequent bill.
Cr Schrinner said flood victims facing financial difficulties will also have access to an additional 60-day due date extension on their rates notices along with and access to payment plans.
"My message to anyone affected by the floods and facing difficulties is to get in touch with Council," he said.
"Our local contact centre team know what you've been through and will work with you."
Cr Schrinner announced a Flood Recovery Taskforce will also be set up to support the recovery process and help Brisbane get back on its feet quicker.
"We used a similar approach during the COVID-19 pandemic and it worked really well," Cr Schrinner said.
"We were able to enact that taskforce's recommendations quickly and I want our Flood Recovery Taskforce to do the same.
The relief package comes after the Schrinner Council announced $5000 clean-up payments for clubs on Council-leased land.
Key Points
$250 rates rebate for an estimated 28,000 properties
Applications open 14 March
488,000 residential rates notices postponed a month
Special 60-day additional due date extensions for flood victims experiencing financial hardship
Flood Recovery Taskforce
Background
Average quarterly rates in Brisbane for 2021-22 is $433.15
Average quarterly rates for flood victims after $250 rebate will be $183
Average quarterly rates in the hard-hit area of Oxley for 2021-22 is $382
Average quarterly rates bill in the Oxley after $250 rebate will be $132