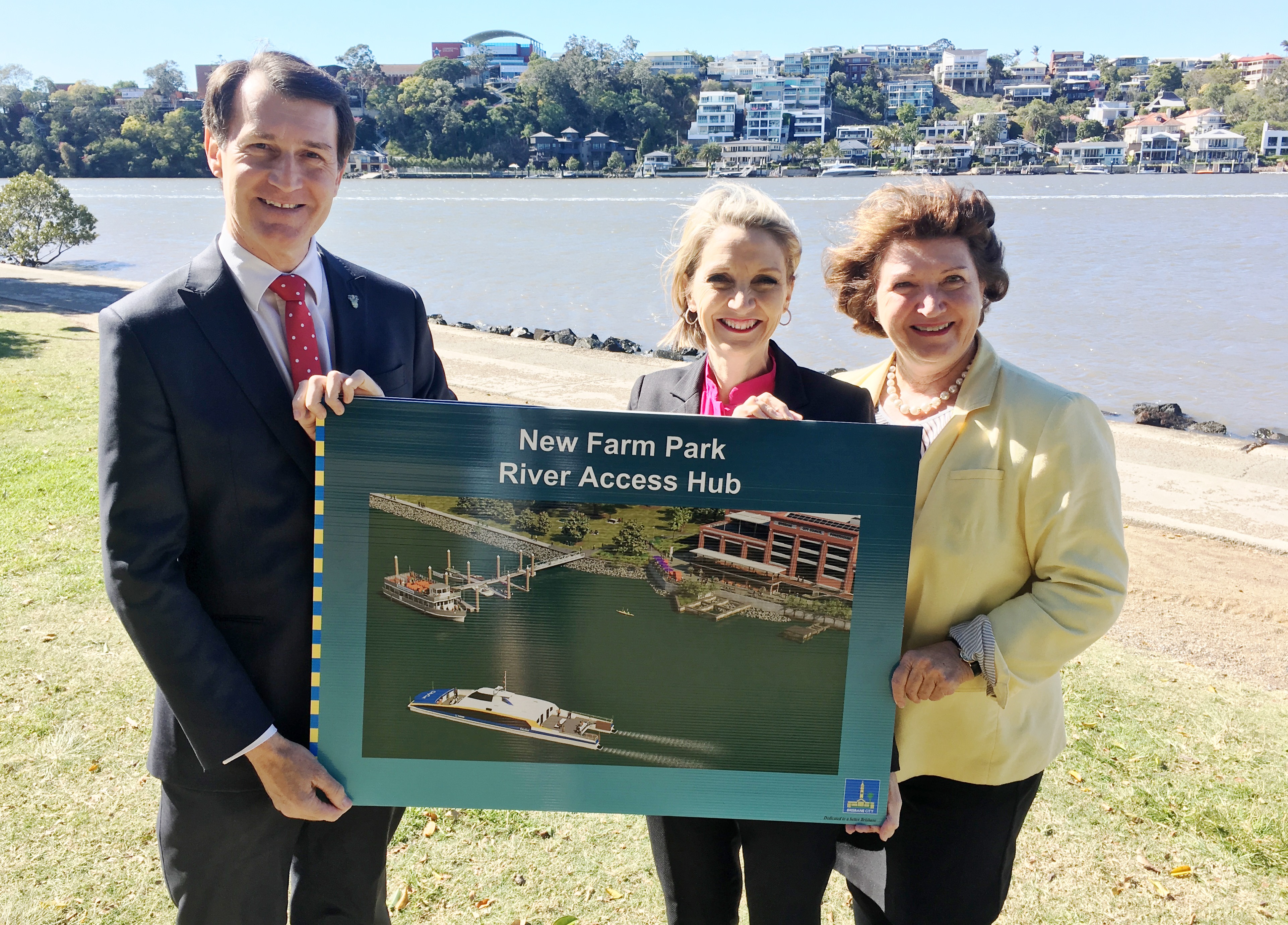 The Brisbane River is poised to benefit from $18 million of on-water infrastructure, with the Lord Mayor releasing designs today for two docking hubs to provide tourist, private and commercial short-term moorings in the inner-city.
The hubs at New Farm Park and City Botanic Gardens are the first of ten city and suburban sites announced in the Lord Mayor's 2017/18 Budget to build a river access network, and create new lifestyle and leisure opportunities on the river.
The Lord Mayor said his river plan was designed to enhance tourism and lifestyle options, by providing convenient locations to jump aboard Moreton Bay and island cruises, hop-on hop-off city-sights tours, water-taxis and leisure craft.
"New Farm Park and the City Botanic Gardens are two of the five inner-city docking sites that will be built, followed by West End and two river-front locations at South Bank," Cr Quirk said.
"These will be complemented by five river lifestyle hubs in the suburban reaches of the Brisbane River, including at Dutton Park.
"Until now, a lack of mooring facilities has prevented river access at key riverfront entertainment, lifestyle and business precincts, and the city has been forgoing tourism opportunities that could support more jobs in Brisbane."
Infrastructure Chairman Amanda Cooper said both New Farm Park and the City Botanic Gardens facilities would provide access to a variety of vessels, with designated spaces to ensure leisure and commercial vehicles could dock separately and safely.
"These large floating structures will consist of a walkway, with several symmetrical fingers for vehicles to berth at, with a tee dedicated to large tour operators," Cr Cooper said.
"Each structure will be flood-resilient and will support up to 15 vessels at any one time, ranging from paddle-boarding and kayaks, through to tinnies, powerboats and tour boats."
Cr Cooper said Council would be holding information sessions for stakeholders, following significant interest from the tourism industry.
Briefing sessions:
Ø Monday 28 August, 5.30-6.30pm – Brisbane Square, 266 George Street, Brisbane
Ø Monday 4 September, 9.00-11.00am – Brisbane Square, 266 George Street, Brisbane
Council will now move to seek necessary approvals from Marine Safety Queensland and other State Government agencies to achieve the necessary support to proceed to construction.
For further information about the River Access Network, visit www.brisbane.qld.gov.au or call Brisbane City Council on 3403 8888.