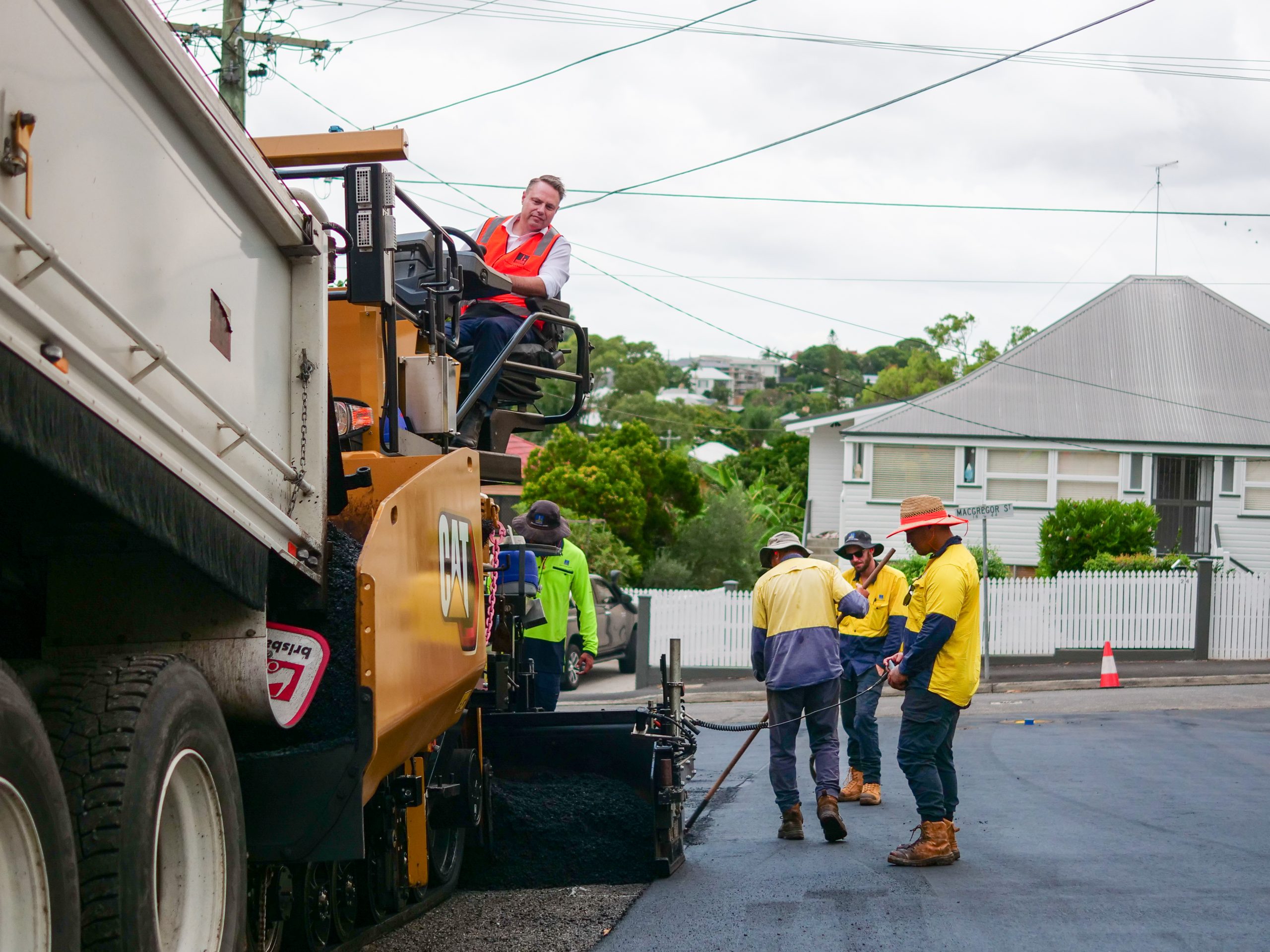 More than 250 roads across Brisbane have been resurfaced by Council since last year's devastating February flood to ensure motorists get home sooner and safer and Brisbane's sustainable resurfacing trial continues with bitumen containing a mixture of recycled tyres also being trialled at a number of locations in Brisbane, including Cannon Hill and Eagle Farm.
Cr Schrinner said the crumbed-rubber trial had enormous potential to both boost tyre recycling while also making road surfaces last up to a decade longer.
"Our Council is investing a record amount in Brisbane's transport network because ensuring motorists get home sooner and safer is one of our top priorities," the Lord Mayor said.
"At the same time, we are always eager to looking at ways we can do things even better and this trial using recycled tyres is a great example.
"Not only does this trial have the potential to significantly increase tyre recycling, it may also ensure ratepayers get better bang for their buck when it comes to keeping our roads in good condition."
The more than 250 road resurfacing projects is in addition to the significant repairs undertaken on 78 inundated roads under Council's Rebuild & Recover program and more than 100,000 potholes filled since the disaster.
"Brisbane has experienced unprecedented periods of rain and this has had an adverse impact on some roads," Cr Schrinner said.
"Our strong financial management over many years combined with our balanced budget means we are able to invest in the repairs and improvements our road network when they are needed."
The crumbed-rubber trial is in addition to regular road maintenance under Council's $360 million four-year Smoother Suburban Streets program.
More than 20 million tyres are dumped in landfill each year and Council's ground-breaking trial will see up to 10,000 tyres a year recycled into new road surface material.
"Roads are one of Council's most critical infrastructure assets with 5706 kilometres to maintain. This is equivalent to more than the distance between Brisbane and Broome – which shows just how expansive our road network is," Cr Schrinner said.
"This rubber mix can slow the oxidisation of the bitumen, which means roads last for a further five to 10 years.
"A typical road lasts between 20 and 30 years, so if we can make them last as long as 25 to 35 years, it will save potentially tens-of-millions of dollars in road surfacing expenditure which can be invested into other Council services."
Current trials include a five percent crumbed rubber in the residential Muir Street, Cannon Hill and a 15 percent trial at Ferrett Street, Eagle Farm, to make the road more durable for the heavy industrial vehicles who use it daily.
Cr Schrinner said Council will continue to monitor the road network for further evidence of damage caused by flooding.
"While Council is completing a record amount of road work, there's always potential for long-term damage to the road base from inundated to emerge at a later stage," he said.
"A survey of 285km roads conducted post flood has identified 71 roads to undergo further work to ensure they become more flood resilient.
"This work includes reconstruction of the road and associated drainage layers to help minimise damage in the future from inundation or rain events, with the first set to commence in late March."
For more information on Council's Smoother Suburban Roads project visit www.brisbane.qld.gov.au or call Council on 3403 8888 and jump to https://vickihoward.com/carbonneutral to see how we are making Brisbane teh cleanes most sustaible city.