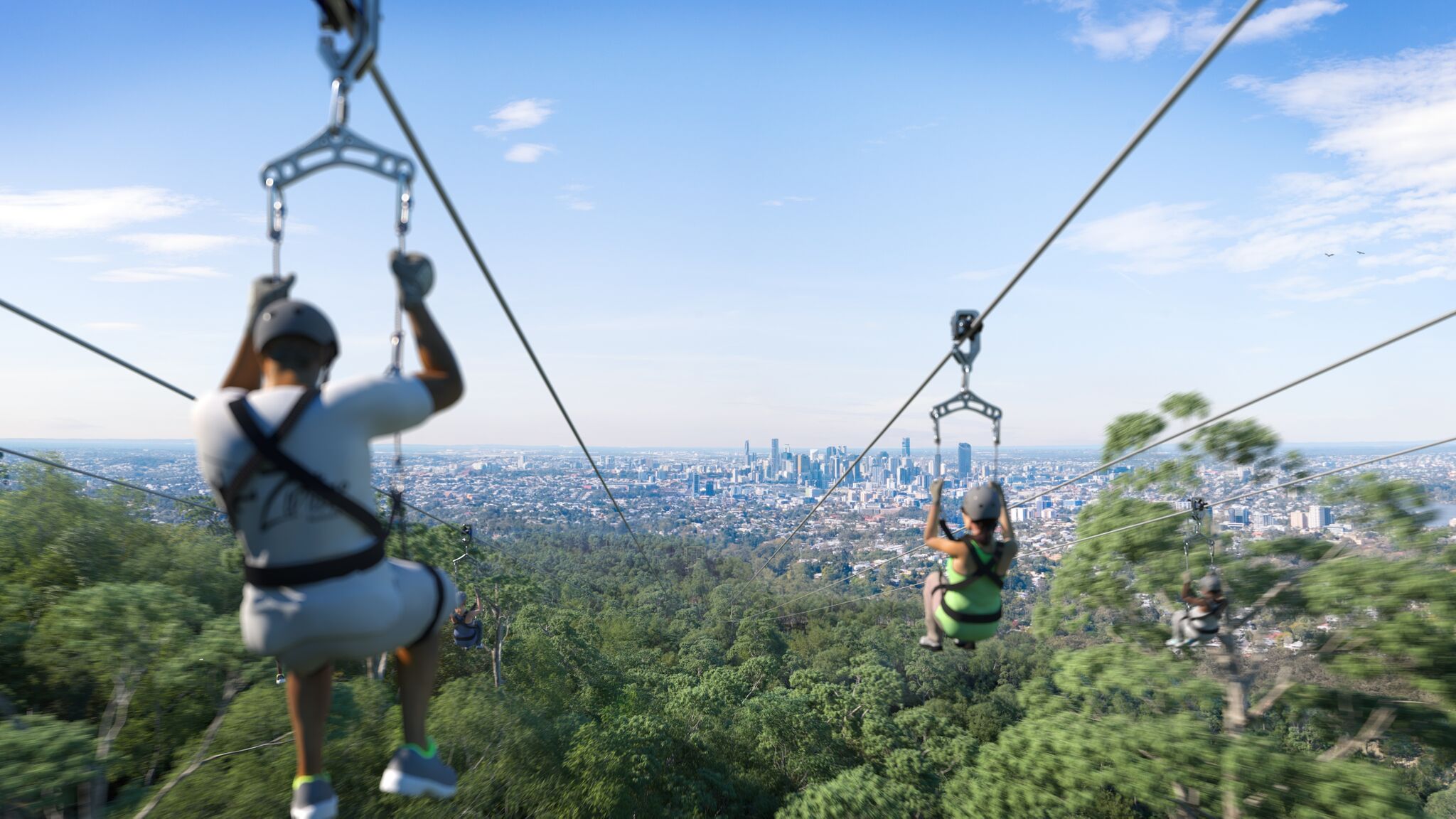 Brisbane City Council's zipline experience at Mt Coot-tha is one-step closer to taking shape, with detailed designs for the project unveiled, as the project seeks development approval.
Councillor Vicki Howard said the zipline would be the first of its kind in Brisbane, with three signature experiences of the Mt Coot-tha forest taking in the best views of the CBD and Moreton Bay.
"We are committed to creating more to see and do in our city, both for residents and to support the eight million annual visitors to Brisbane, and the Mt Coot-tha Zipline will provide an exciting adventure experience located just minutes from Brisbane's CBD," Cr Howard said.
"The Mt Coot-tha Zipline will feature a treetop canopy zipline of 1.2 kilometres, as well a separate 1.1 kilometre scenic zipline that travels from the summit of Mt Coot-tha into the Brisbane Botanic Gardens."
Cr Howard said that the Scenic Zipline would showcase views of the city, Moreton Bay and beyond, with a single-span ride from the summit lookout down to the Botanic Gardens, allowing adventurers to soar at up to 60 kilometres per hour, above the treeline.
"The Scenic Zipline has been designed to deliver the best views in Brisbane, with the zipline travelling a minimum of three metres above the top of the tree canopy all the way down the mountain," she said.
"In contrast, the Treetop Canopy Zipline will be an up-close and personal experience in the Mt Coot-tha forest, with a zipline tour hopping short distances between separate platforms, weaving between native Australian trees and connecting to a 335 metre cable-suspended bridge walk.
"Users will travel through nine treetop platforms along ziplines of between 20 metres to 330 metres in length and each of the platforms will be secured to the trees using brackets that carry the weight of the platform, without damaging the tree.
"The Scenic Zipline will be open for use between 7am and 10pm, with the Treetop Canopy Zipline operating between 7am and sunset."
Cr Howard said that Council has been undertaking extensive vegetation impact studies and regulatory approvals, in order for the zipline to proceed to the next stage, which involves development assessment and community consultation.
"Extensive independent expert studies have been undertaken as part of the project to ensure the Mt Coot-tha Zipline design is sensitive to the environment, including the natural habitat and Botanic Gardens," she said.
In coming months residents will have the opportunity to provide feedback about the zipline proposal, including the detailed construction designs. Council is investing $1 million into the Mt Coot-tha Zipline, which will deliver more than $230 million of economic benefit over 30 years, by expanding the city's ecotourism opportunities.
There's some great images at this link – https://www.brisbane.qld.gov.au/facilities-recreation/parks-venues/mt-coot-tha-precinct/mt%C2%A0coot-tha-precinct-projects/mt-coot-tha-zipline