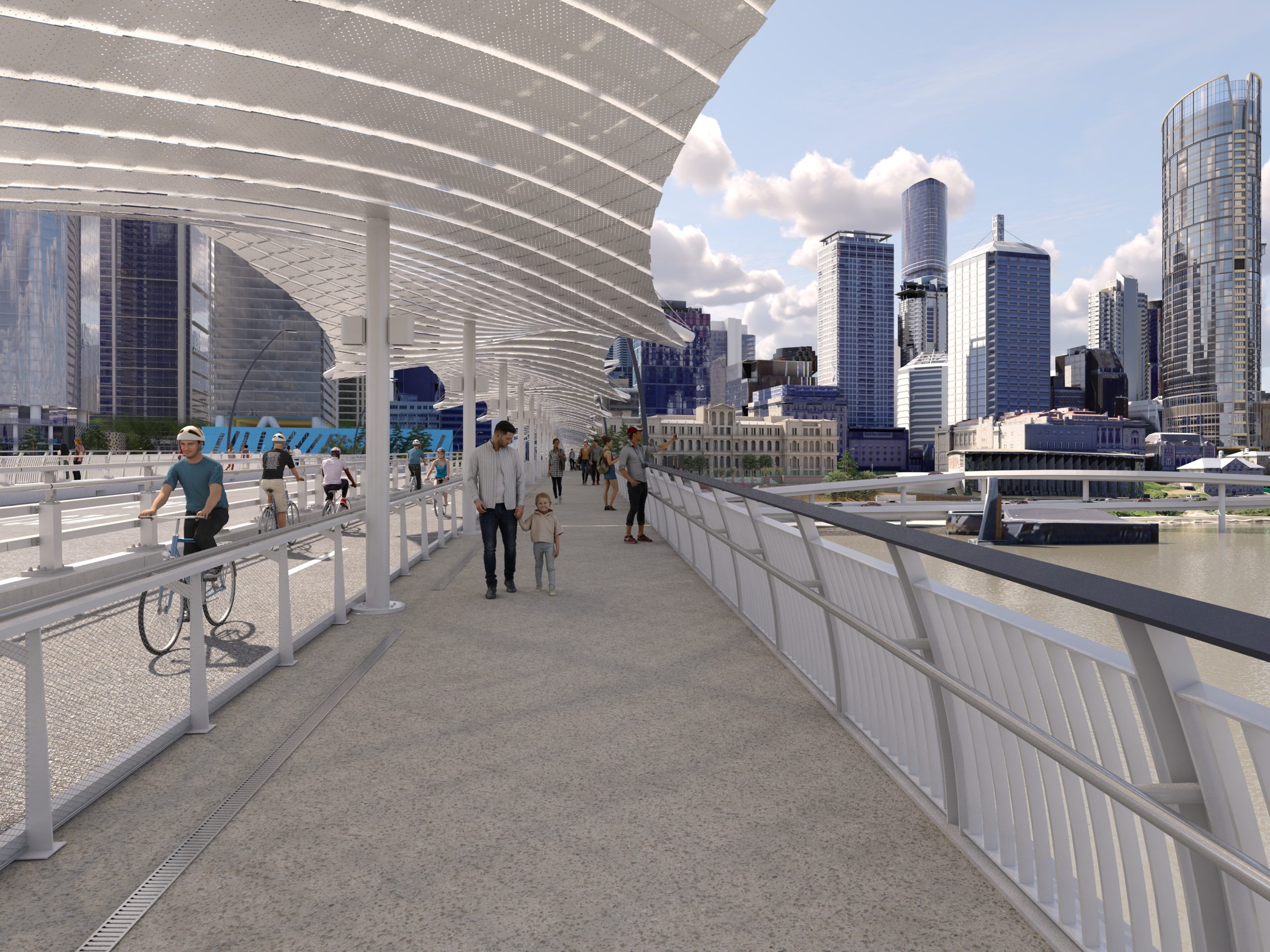 Brisbane's city heart to South Bank corridor will be significantly enhanced under new plans unveiled by Lord Mayor Adrian Schrinner.
Decluttering Queen Street Mall, saving Reddacliff Place from development and providing shade for Victoria Bridge pedestrians are all key initiatives that will be delivered under Council's new City to South Bank Vision.
Cr Schrinner said reinvigorating the mall and significantly enhancing the connection between the city centre and South Bank will deliver a better experience for residents and visitors.
"Brisbane is Australia's fastest growing capital city and we've recently been recognised as one of the top destinations in the world to visit," he said.
"Queen Street Mall and South Bank are loved by our residents and are must-do destinations for visitors.
"Decluttering the mall and ensuring the experience travelling between the city and South Bank is vibrant, seamless and accessible will deliver long-term benefits for Brisbane."
Under the City to South Bank Vision, Council will:
Build a new shade structure over Victoria Bridge's pathway to provide year-round protection for pedestrians.
Purchase the privately-owned Reddacliff Place to preserve it permanently as public space for open-air markets, events and arts.
Remove the Milano's near George Street and investigate removing Pig 'N' Whistle near Edward Street for new shade, seating and activation opportunities.
Investigate revitalising or relocating the stage area to encourage more frequent use.
Cr Schrinner said the vision will complement Council's major upgrade of the Cultural Centre Bus Station which is being undertaken as part of the Brisbane Metro project.
"A large number of pedestrians, including both residents and visitors, already travel across Victoria Bridge each day," Cr Schrinner said.
"This will increase significantly in the years to come under our plans to create thousands of new homes in South Brisbane's Kurilpa precinct.
"Shading Victoria Bridge will significantly enhance walkability between South Brisbane and the CBD, particularly during the hotter months of the year."
Cr Schrinner said the purchase of Reddacliff Place will prevent its redevelopment.
"While Reddacliff Place is much-loved by residents and provides an incredible vista between the city and South Brisbane, it is currently privately owned," he said.
"Our purchase of this site will preserve it as a public open space, ensuring the weekly markets continue and allowing us to activate it day and night."
Deputy Mayor Krista Adams said both Milano's and Pig 'N' Whistle will cease operating at the end of June.
"The Queen Street Mall recently marked its 40th anniversary yet remains one of the busiest malls in Australia with more than a million pedestrian movements a week," she said.
"The number of people in the mall throughout the recent NRL Magic Round weekend once again demonstrated how important an asset it is for the city.
"The mall has always evolved with the times. That's why it continues to be Queensland's premier shopping precinct.
"Removing potentially both venues at either end of the mall will allow us to incorporate more trees and seating, enhancing the mall's sub-tropical feel."
Cr Adams said Council is considering incorporating a licenced activation area in place of the current Pig 'N' Whistle.
"That will mean new and exciting vendors and experiences in the mall regularly, such as a pop-up gin bar one week, a new tasting brewery the next or a fabulous array of food trucks."
See the vision at Cr Vicki Howard Queen Street Mall Plan Document and send me your comments below. Together let's incorporate more trees and greenery, additional seating, enhance our Mall's subtropical feel, and deliver and even better more vibrant City shopping precinct.
City to South Bank Vision
Click HERE to see more about how we are delivering a better Brisbane.